April is Volunteer Appreciation Month, and we are spotlighting our incredible PATH Volunteers! Their passion and commitment to serving our unhoused neighbors in each of our regions exceeds our expectations year after year. This month and all year long, we would like to take the time to recognize the impact and power of our volunteers—from students, to board members, to elected officials, to community partners.  
We want to recognize the people that dedicate their time, voice, resources, and talent to help us end homelessness. The impact our volunteers have on the lives of the people we serve is truly immeasurable and we are so grateful.  
The COVID-19 pandemic has changed the way many of our programs and services operate, but our volunteers have been resilient and have found news ways to give back, including hosting virtual volunteer events, making Welcome Home Kits, donating essential outreach supplies, and providing meals to our unhoused neighbors through PATH Cooks Mobile. Below are a few of our generous volunteers who have shared why they feel compelled to serve and donate their time with PATH!   
San 
Diego
Last year provided PATH San Diego many opportunities to pivot and create new ways to engage our volunteers remotely. We launched a meal delivery service for our most vulnerable clients, PATH Cooks Mobile, and our need for volunteer delivery drivers became a critical part of our volunteer program.  
We hosted more drives for essential supplies than ever before, and the San Diego community responded with an overwhelming number of care kits, blankets, masks, hand sanitizer, emergency food kits, and other essential outreach supplies.  
We also had the opportunity to expand our food rescue program, enabling us to that showed great interest from our volunteers. Other successful remote opportunities included knitting and crocheting beanies to keep our unhoused neighbors warm during the winter, creating original works of art for residents' new homes, and research projects on critical issues surrounding homelessness.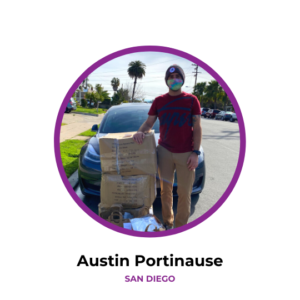 "I met a dear friend of mine while they were experiencing homelessness and staying with PATH on their road to their own home again. The time I give to PATH is to honor their struggle and many others' struggles with homelessness in San Diego…" – Austin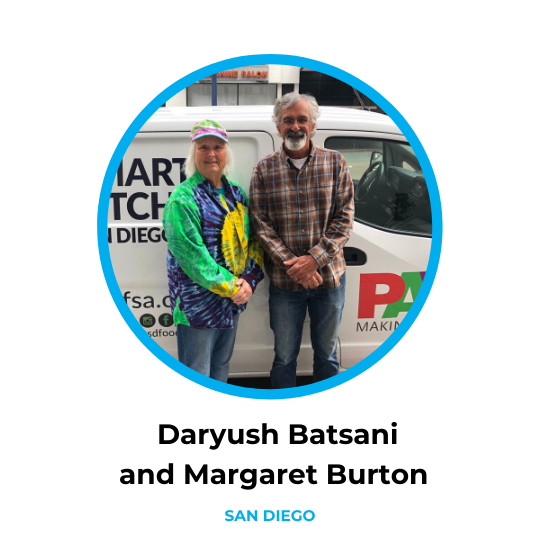 "Homelessness and hunger within such a rich country is such a travesty. Hunger in our country is not caused by food scarcity, it is created by gaps in distribution." – Daryush 
"We cannot stand by and see people in need when we know there is food to be rescued. Twice a week, we gather those unsold groceries and give them a second chance to be used to feed the hungry. It's rewarding to know we can make a difference in the wellbeing of PATH clients." – Margaret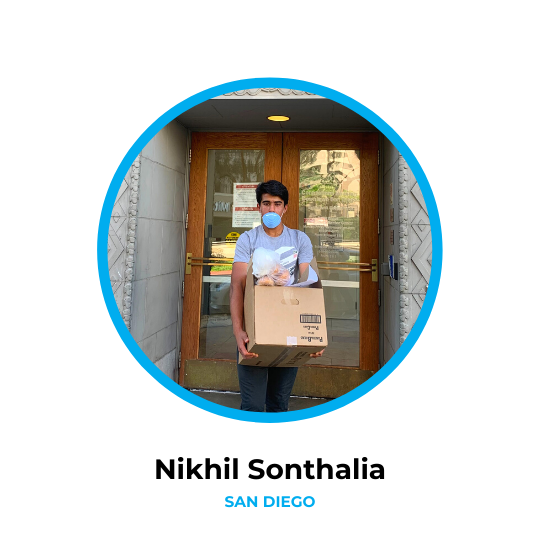 "My passion that drives me to do this work is to help those that need it most. I feel that bringing bread is one simple way of me helping out those that need it." – Nikhil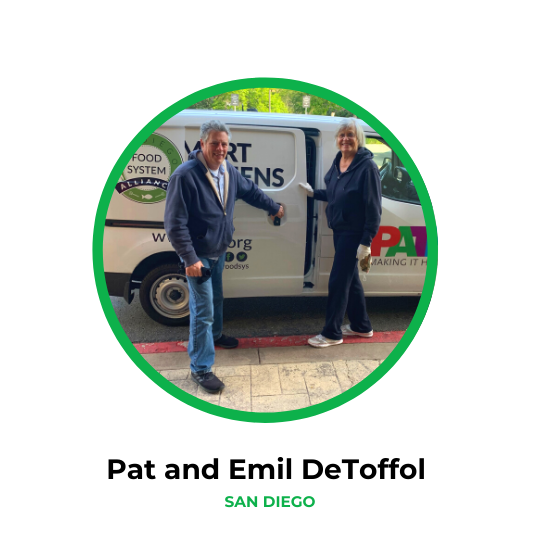 "We are honored to do our little part. We have been blessed in so many ways in this life and doing this much for PATH and the people it serves, is one of our ways of giving back… We love our city of San Diego and we are honored to contribute to making it better. We believe in the mission of PATH and we feel that our little contribution there helps makes a difference." – Pat and Emil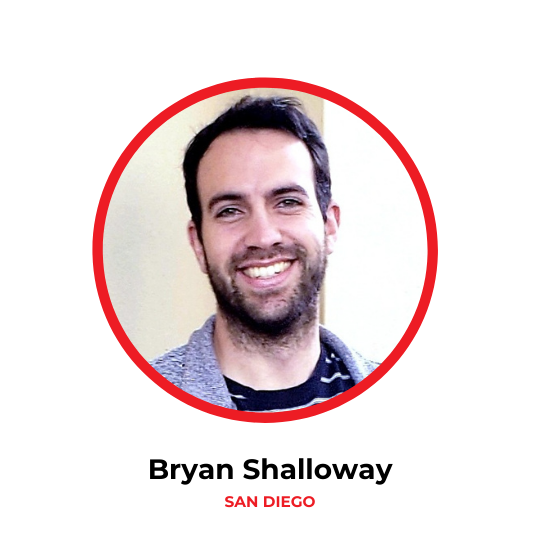 "It is only through luck at birth or in circumstance that any of us are privileged to know where we will rest each night. Being a volunteer at PATH means the chance to help reduce this as a source of uncertainty in others. Through their volunteer research projects, PATH provided a flexible opportunity for me to contribute remotely during the COVID19 pandemic. The project I worked on (collecting and organizing documentation on the "Basics of Data on People Experiencing Homelessness") took advantage of my experience in research and analytics." – Bryan
Los Angeles
We have been truly inspired by the overwhelming support from our volunteers and community in response to COVID-19. The COVID-19 pandemic brought a unique set of challenges to engage our volunteers and community groups remotely. However, despite these challenges, our volunteers rose to the occasion to help our neighbors in need at a time it was needed most. 
PATH's work has continued tirelessly through the pandemic, and the need to help our unhoused neighbors has sharply increased due to economic hardship, health and safety concerns, and challenges in access to essential supplies.  
In response, individual volunteers have signed up in unprecedented numbers to attend virtual orientation sessions, engage in remote volunteer projects, and to donate both in-kind supplies and financial support to meet the need! We have seen individual, corporate, school, and community volunteers get more creative, proactive, and adaptive in volunteering their time in support of PATH!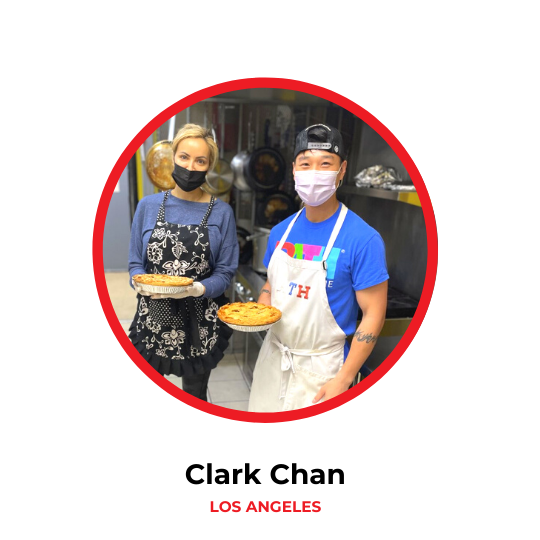 "I volunteer at PATH Cooks because I have a passion to help our community and provide a service to those in need, especially for our Veterans. They did their duty and served our county. The least I can do is give back and SERVE them a delicious meal to keep them going. And I couldn't have done this without the help of so many others! I want to thank everyone who have helped me give back!" – Clark
A special shout out goes out to Clark's group of volunteers who have helped plan and cook these weekly meals.  Thank you to Russell, Nicolas, Hoang, Nina, Peter, Meng, Izaac, June, Kris, Nadine, Tu, Patricia, Ms. Lozano, Juan, John, Ruby, and Selma!
Orange County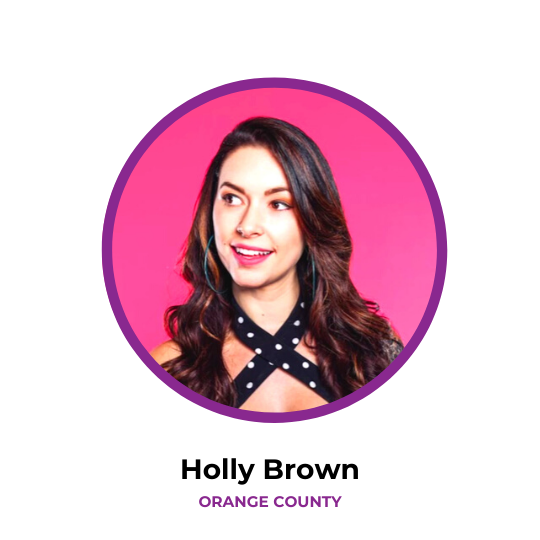 "PATH provided an effortlessly joyful, innovative and welcoming presence to every member of the community. Being able to help others is the best way to help yourself. When we do good, we feel good. Thank you for all you do, PATH!" – Holly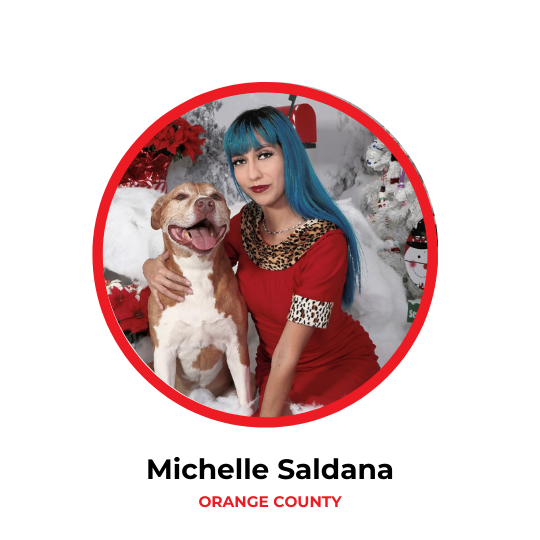 "Helping homeless companions is a direct heart string from us to PATH. I volunteer with PATH so other families with pets know they won't ever be alone because Pets are family." – Michelle
San Jose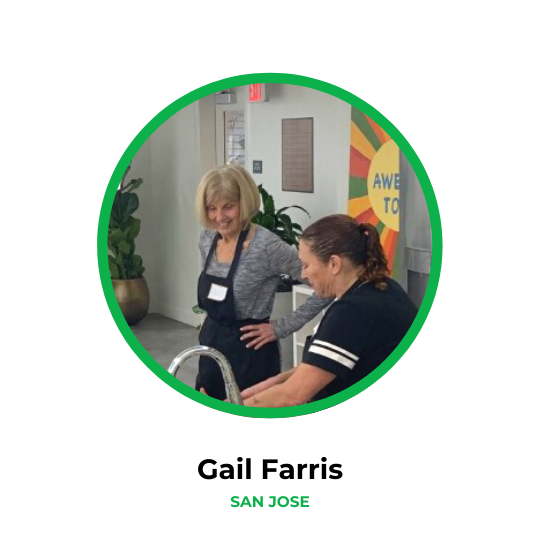 "I believe in the power of community and that by building a strong community, all its residents' benefit. In supporting our neighbors in securing a safe and healthy place to live, PATH is helping the marginalized of our area become part of the community. It has been a pleasure to participate in enrichment programs at Villas on the Park. I appreciate the opportunity to contribute my time and resources to uplift the lives of the residents." – Gail
PATH Ventures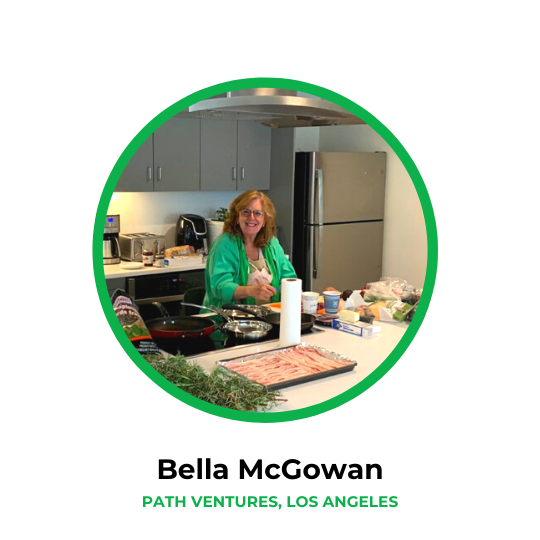 "I trained as a Master Gardener and am now finishing a Horticultural Therapy program – my coursework combines my passions – gardening and psychology!  When you advertised for the new garden at PATH Metro Villas, I couldn't wait to respond! It's been a match made in heaven ever since. I love working with JP and the residents as we creatively imagine and grow the program… It's absolutely joyful to harvest what we've sown together, and to see the garden grow and take shape. To me, the creation of a community garden is the best way to bring people together, build a sense of belonging, and create a home!"  – Bella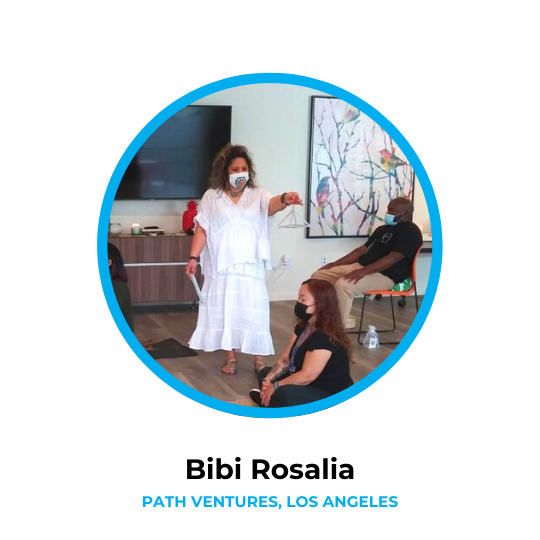 "Our staff and clients are my inspirations for volunteering at PATH. PATH staff work tirelessly to help our neighbors experiencing homelessness make it home.  Our PATH Metro Villas tenants have survived and overcome so much on their journey to be where they are now.  Sound Healing sessions gives them the opportunity to invest in themselves.  Offering sound healing is my way of thanking the staff for all that they do, and for providing both staff and clients a respite. My hope is that they come out of the sessions feeling joyful, relaxed, and rejuvenated."  – Bibi