Nothing says summer celebration like a gathering over delicious food! Whether it's bratwurst on the grill, watermelon with Tajín, or a classic pie, there's no better way to celebrate and enjoy the company of family and friends during the summer.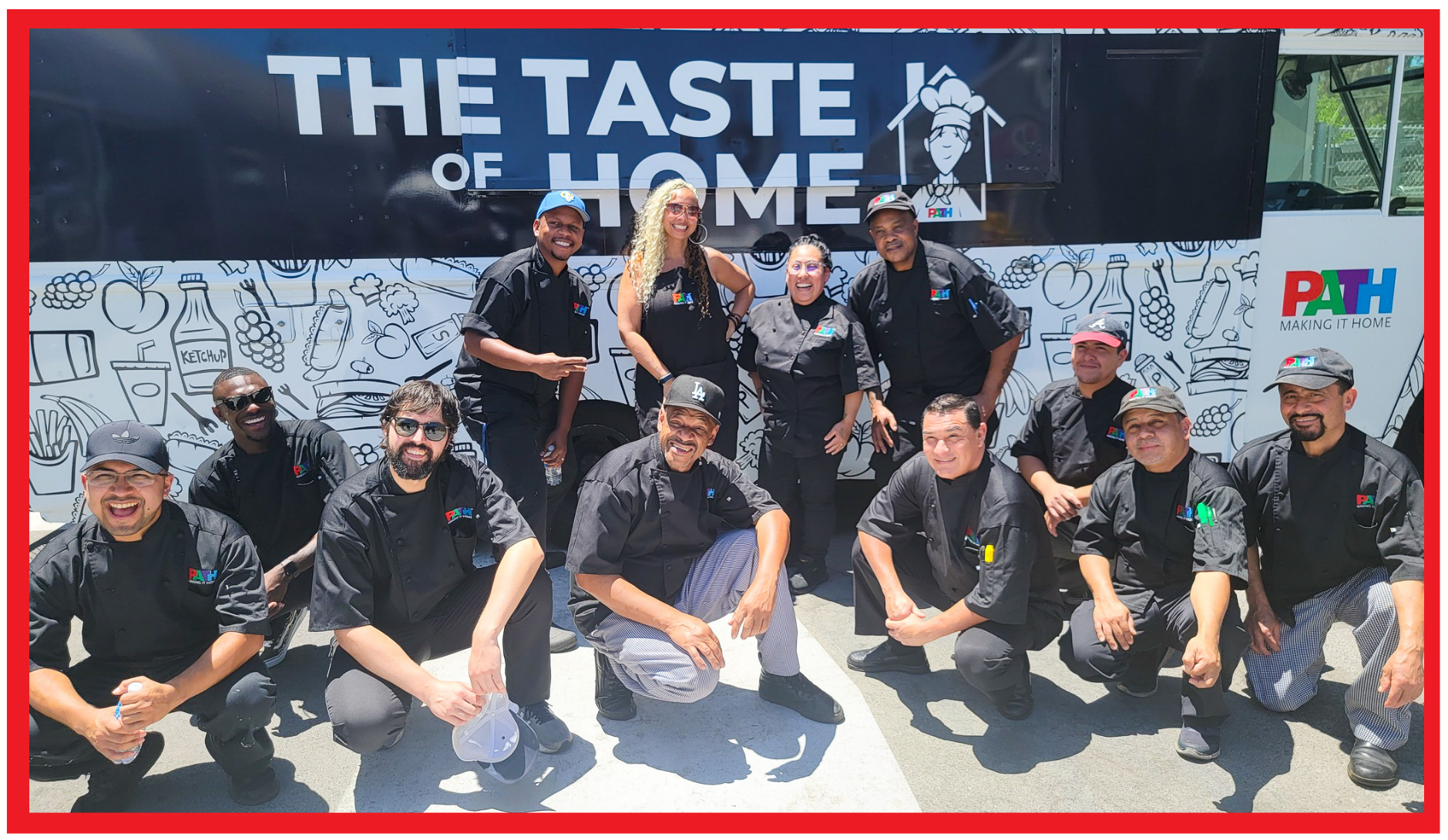 The Most Important Food Truck in Los Angeles: The Taste of Home
Food is part of our every day life. Whether it's savory, sweet, simple, or celebratory, food is one of the main reasons we get up in the morning, one of the things we look forward to throughout our work and school days, and one of the things that helps us remember people, places, and moments with fondness. This is why we celebrate food with our staff and residents whenever we can to build community and connectedness.
One way that we keep access to food an integral part of PATH's mission, is with our revolutionary food truck program. This program began in 2018, in Venice, CA, and has since burgeoned into the beautiful program we have now.
We sat down with Tyreke Robinson, the Lead Cook at our Metro LA Program, and asked about his insights into this innovate program. When asked what he loves most about his job, he said, "Getting to know a lot of the guests and have them tell us their life story, it makes you look back at life and makes you be grateful. By us making food for them every single day, it makes them smile."
The food trucks operate next to our interim sites, and serve three healthy meals a day: breakfast, lunch, and dinner. The food comes from Sysco, Trader Joe's, and other outside donations, and is served to about three-hundred guests per day.
"Guests are our top priority right now," says Robinson. "Putting out good food, making them smile, if they're having a bad day, we make their day a lot better."
Not only does Tyreke and the whole team make their days better, but they make them scrumptious! They also provide a bit of regularity in an otherwise unreliable world. Many of our residents, who are combatting uncertainty and trauma in their daily lives, get to feel the comfort of a home-cooked meal due to our food truck program. When asked what meals were some of the residents favorite, Tyreke looked to the sky and thought for a moment, then with a slight smile said, "Probably Mac 'n cheese and barbecue."
A Million Dollar Recipe
We asked residents and staff all over the state what their favorite summer recipes were and one person chimed in without pause – our resident Herman from PATH Villas South Gate. Not only were we excited when we heard Herman had a pie recipe for us to dig into, but we were elated to hear that it was a "no-bake" pie… perfect for Southern California's sweltering summer heat.
Gabbie Jablonski, PATH's Digital Media Specialist, joined Herman on a sunny July day at PATH Villas South Gate to learn his Million Dollar Pie recipe. This recipe was passed down to him from his mom, who got it from his grandma. When asked where his grandma got this delicious pie recipe, Herman said, "I don't know… it's probably over a hundred years old!" His family is from Oklahoma, where the summers are hot and unforgiving, so this pie was created for unbearable heat, when you can't even think of turning the oven on.
"You can make it with whatever fruit you want: cherries, pineapple, mango," says Herman of his historical recipe, "You can put nuts on top, too."
The best part about this recipe, is how many people love it. Herman made it for the 4th of July and residents and staff had to come try a slice. Then, when Gabbie came for her pie-tutorial, Herman let her take two pies back to the office in Los Angeles, and they were gone within an afternoon!
So if you're looking for a great way to cool off with the kids while still indulging in a little sweetness, give Herman's Million Dollar Pie a try… we promise you won't regret it!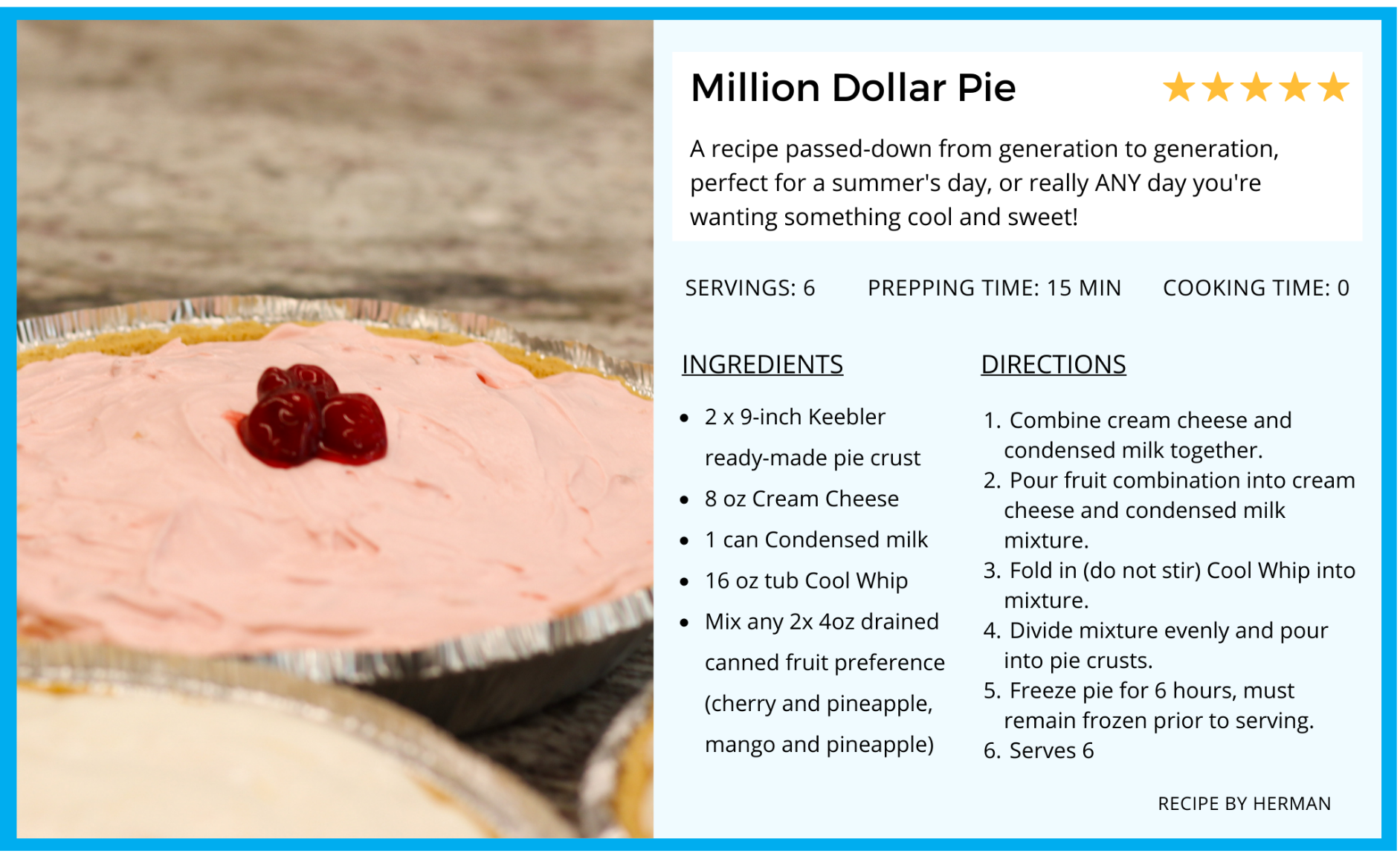 Brunch in the Bay
Our newly renovated Community Room at Villas on the Park was bustling last week with its first Resident Appreciation Brunch since it's glow-up!
Our staff made a delicious brunch, residents relaxed and enjoyed each other's company, and there was even a game of Jenga. What a fun and scrumptious morning at Villas on the Park!
Jesse Gomez, our Activities and Volunteer Coordinator said of the morning gathering, "Our residents definitely felt that they were appreciated by having staff cook and share a meal which gave them a glimpse of what staff is like with their hair down, making our relationships within the community even stronger."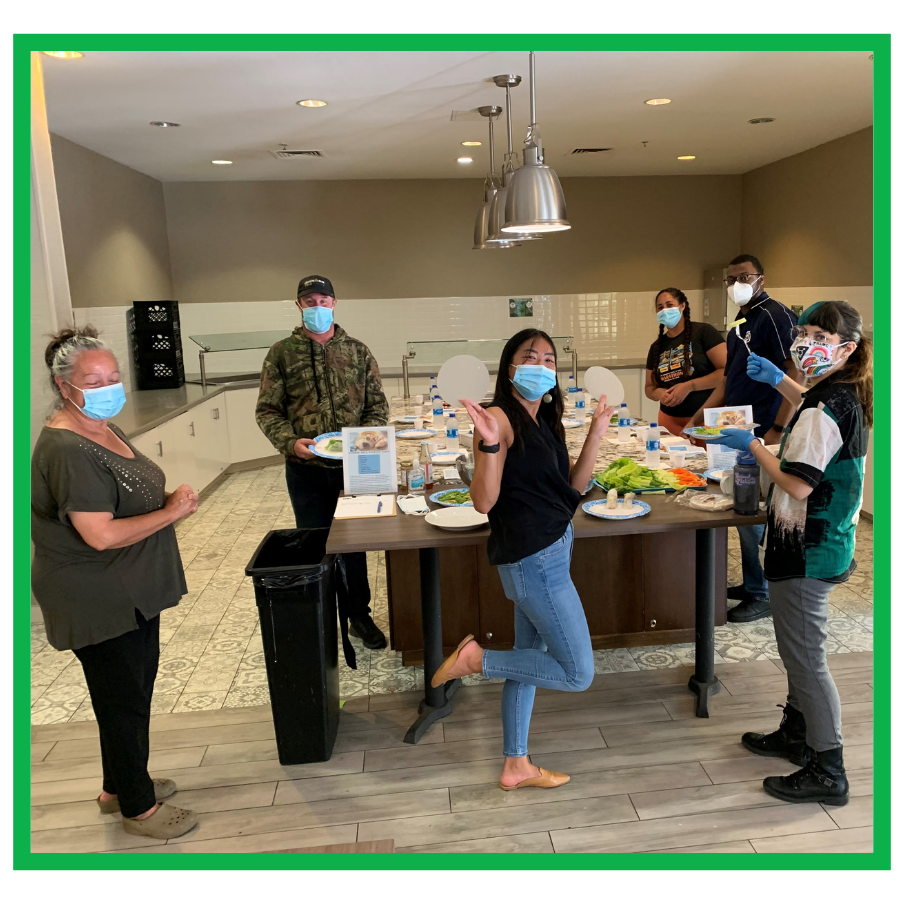 San Diego is on a Roll
Down in San Diego, our residents attended a cooking class and learned how to make something that's light, healthy, and perfect for any afternoon gathering… Summer Rolls!
Our residents enjoyed this cooking class with tips and tricks on how to make this refreshing roll. They noted how perfect this recipe is, not only due to its delectable flavors, but also that it's a delicious way to disguise your veggies and not break the bank since all ingredients are budget friendly.
This recipe starts with simple veggies that are bountiful in California, with rice paper and rice noodles for healthy carbohydrates, shredded chicken for protein, a sweet chili sauce for a dose of heat, and a sweet peanut satay sauce!
Enjoy this recipe and give it your own twist with whatever favorite vegetables or protein you like! Perfect when you're getting bored with the same-old sandwich routine. Yum!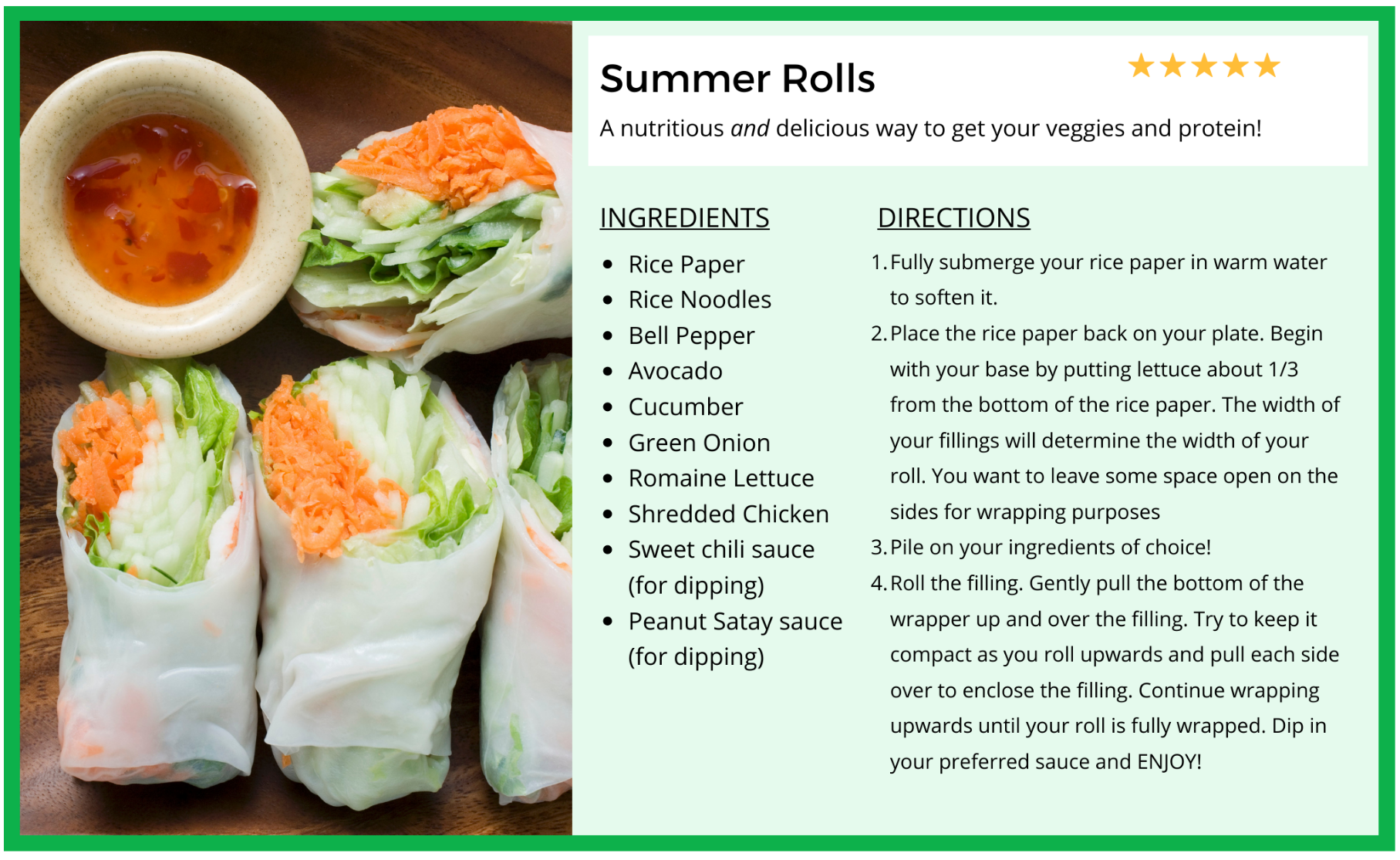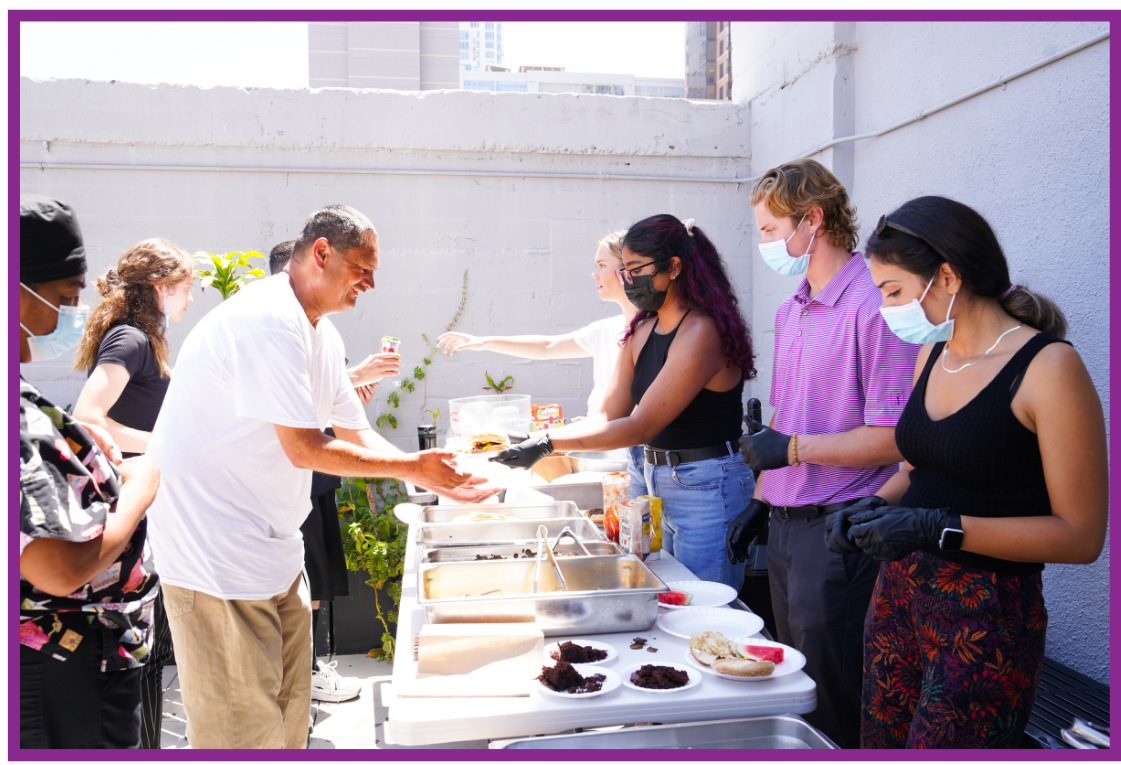 Burgers and Bingo!
It's always a delight to catch up with our San Diego residents and staff and catch a glimpse of the stunning view from their garden terrace. And what could make that moment even better? Why bingo and burgers, of course!
Our incredible partners, Kendra Scott and Insight Global, helped our staff and residents celebrate a gorgeous summer's day, with burgers, fries, watermelon, and cake!
It's days like these that remind us of one of renowned chef, Julia Child's, most famous quotes, "Dining with one's friends and beloved family is certainly one of life's primal and most innocent delights, one that is both soul-satisfying and eternal."