Farrah unexpectedly became homeless, and hope faded as hotel vouchers ran out.
Unable to regain housing on her own, she found herself at PATH San Diego. Farrah worked with her case manager to reconnect with medical and mental health providers. Now she lives at our permanent supportive housing community in San Diego.
"I'm very grateful for this journey and the support that was given to me. I can see the whole city from my new apartment, and the path that is in front of me…I'm blessed."
Welcome Home, Farrah!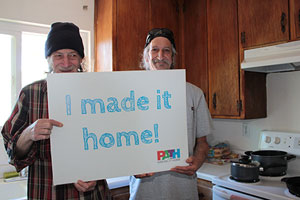 A red 1986 rusted truck is what brothers, Dennis and Mike called "home" for over five years. Things looked up when they were able to rent an RV. However, the "bug infested box" as they call it, cost them $450 a month. No working toilet. No shower. No running water. That was "home" for another restless six years. Mike, working since he was seventeen, did not make enough to afford a decent apartment for both him and his brother.