Spring is about celebrating new beginnings, and each new beginning at PATH starts with a lot of extra help from our incredible volunteers throughout the state. These everyday heroes detail their individual experiences volunteering at PATH: from church barbecues, dog get-togethers, piano lessons, to assembling much-needed care kits, our volunteers know exactly how to support our neighbors in need across the state!
From the sunny beaches of San Diego to the green hills of the Bay Area, we can always count on our volunteers and are excited to honor them for Volunteer Appreciation Month. Read this month's blog to hear what inspires them to volunteer at PATH and their favorite volunteer experiences!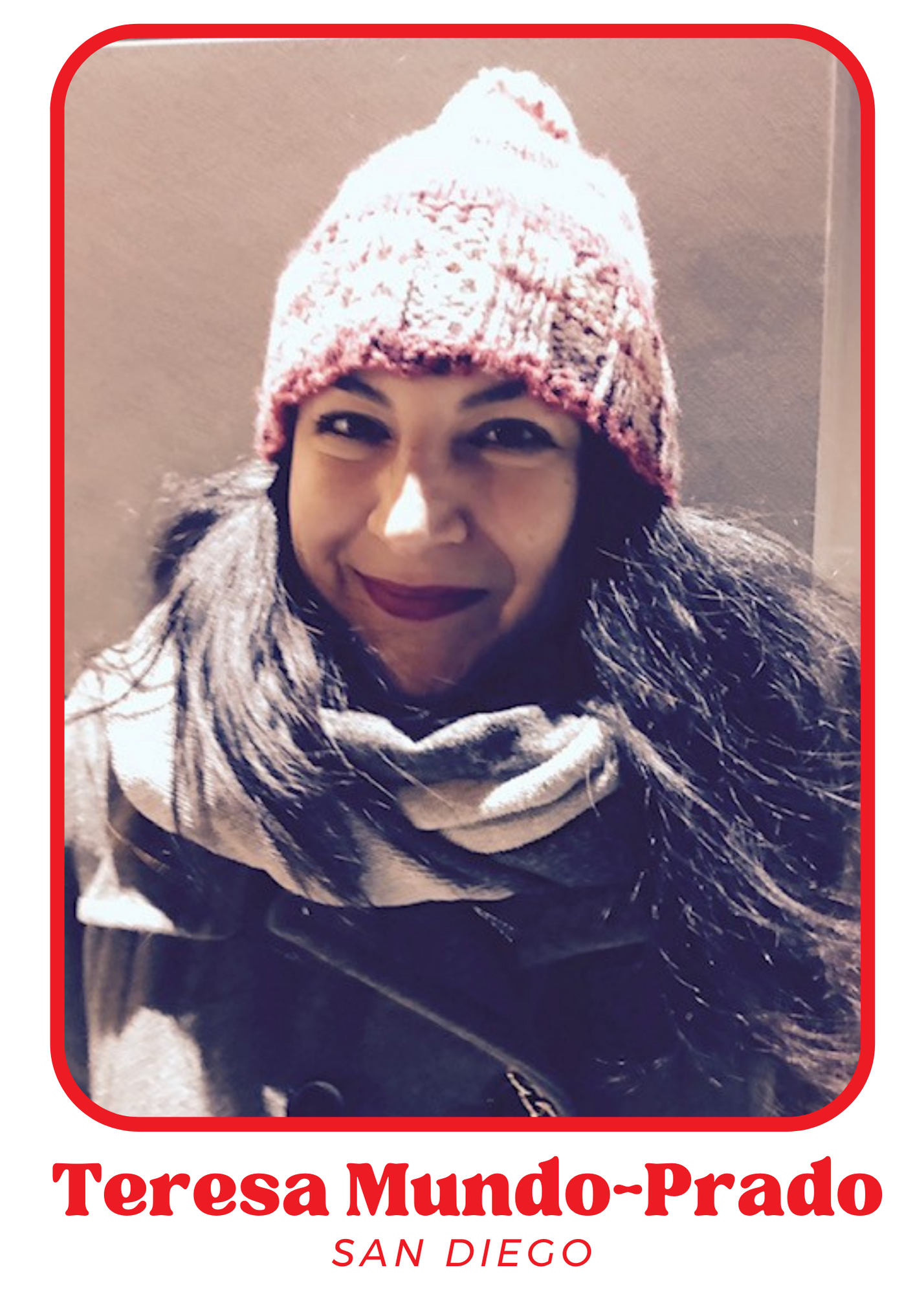 Tell us a little about yourself and how PATH's mission motivated you to volunteer with PATH?
At a young age my parents instilled service in myself and my two brothers. My parents would help by welcoming immigrant families and/or foster youth into our home. My father was an immigrant who came here at 17- years old and had no one but a church that was kind enough to help. If our neighbors were sick, we would be sent to their homes with a baked meal or cookies, or we'd be offered up as little helper's for the day to help mow a lawn , pick-up mail, walk a dog, etc. So naturally when I saw that PATH needed help, I was excited to lend a hand any way that I could.
Do you have any favorite experiences at PATH, or any that have left an impression on you?
There are so many, but my favorite experience thus far has been the dog get-together with USD. Seeing people talk about their dogs and the smiles it brought to residents faces was so heartwarming, and it was also a reminder of how important; companionship, friendship, and love are to those who are most vulnerable… sometimes a pet is all they have and what keeps them going. Bonds with trust are incredibly important.
What have you learned from your time with PATH?
I've learned that being of service never gets old. It feels so good to not just be of service to an organization, it's even better when you build trust with residents. Trust is a privilege, and when you have breakthroughs and can genuinely give someone a hand with information, or solutions to their pressing life problem(s)… It's vital to their well-being and future endeavors. It truly sets them up for success.
Why do we need organizations like PATH?
Organizations such as PATH must exist, without them there would not be a balance of power, let alone resources for the most vulnerable. People forget that not everyone was fortunate to have a home, let alone two parents, or their basic needs met. All of those things are a privilege and vital to a successful future. Or at least an easier one. PATH provides opportunities with empathy and guidance, we need more of them not just CA, but everywhere in the United States and hopefully in other countries too.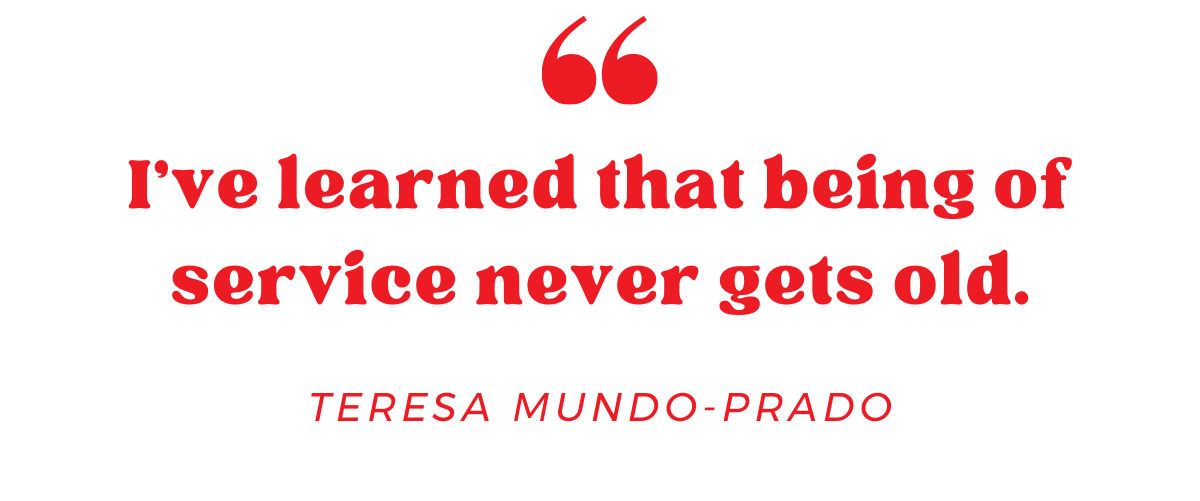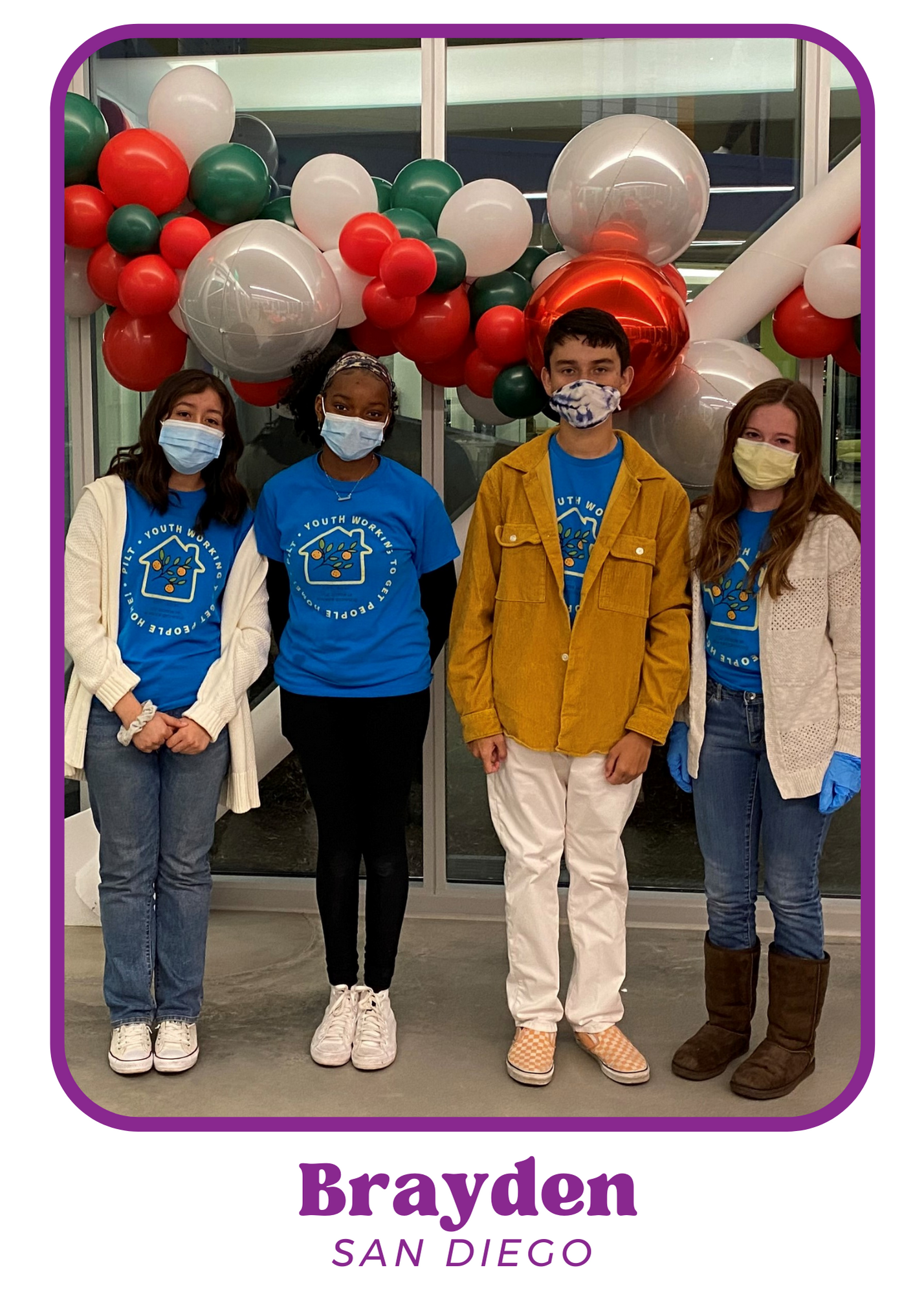 Tell us a little about yourself and how PATH's mission motivated you to volunteer with PATH? 
My name is Brayden and I am 15. I am the founder of PATH Interscholastic Leadership Team aka PILT. I am active in my school and in the community. In school, I serve on the PTSA board as the Class of 2024 representative, and I am a member of my school's speech and debate leadership team, ASB, and Scottie Restore Club. I also founded the Class of 2024 Community Outreach Project during the pandemic to provide hygiene products and masks to the most vulnerable segments of our communities. Aside from directing PILT operations outside of school, I serve on the PSA 182 Memorial Advocacy Committee, and I was recently selected to serve on the San Diego County Board of Education as a student board member. Whenever I have free time, I like to play with my dog or play video games. I hope to major in psychology in college.
What motivated me to volunteer with PATH was what I learned at Albert Einstein Academies Charter Schools (AEACS) as an elementary and middle school student. AEACS taught us about our responsibility to the world around us. When I graduated middle school in June 2020, pandemic-related job loss was leaving people without a place to live, making the housing crisis in San Diego even worse.  I looked to volunteer at a diverse, open-minded organization that took a housing-first approach to homelessness, and my research led me to PATH San Diego!
Do you have any favorite experiences at PATH, or any that have left an impression on you?
I have many favorite experiences, but my most favorite experience (and memory) at PATH was the day I first met my supervisor, the indefatigable and indomitable Ms. Sigrid Struben. I had been volunteering at the kitchen at Connections and I saw the overwhelming number of people that came to PATH Connections needing help during the pandemic, I asked for a meeting with Ms. Struben because I had an idea that I wanted to run by her – to start a youth organization to help PATH in its mission.  It was 3 days after my 15th birthday, and I was nervous about meeting the Associate Director of Community Affairs. I wondered if she would take a kid like me seriously, so I went prepared as professionally as possible with a plan in a shiny new folder to convince Ms. Struben that a youth arm of PATH San Diego could help PATH's mission significantly.  To my surprise and joy, Ms. Struben gave me the green light right away and PILT was born – made up entirely of like-minded AEACS alumni!  Looking back at how much we have grown and the significant impact that PILT has made in just 7 months, I can only say that all we need to make a difference is ONE adult who believes in us. PILT will always be grateful to Ms. Struben for being our biggest cheerleader.
What have you learned from your time with PATH?
I have learned a few thing from my time with PATH such as the seriousness of housing and insecurity in our communities. But the most important lesson that I learned from my time at PATH is the lesson I learned from our advisor Ms. Struben that "everything important is worth fighting for." That's a direct quote! As teenagers (without a driver's license) trying to navigate a world controlled by adults, we are frequently discouraged because of obstacles that stand in our way with things like opening a bank account or getting a project off the ground, or even negotiating with a parent to take us where we want to go in the middle of their work day. But it is important to remember that our mission is greater than we are. It's worth every hurdle and every obstacle to bring some comfort in some small way to someone who is having a hard time.
Why do we need organizations like PATH?
We need organizations like PATH because we have a moral and social obligation as human beings and as people in a relatively privileged position in society to help those who are less fortunate. A permanent home and enough food are not just basic human needs nicely stacked up on Abraham Maslow's pyramid. They are basic human rights recognized by the UN. A lot of people know that and want to help, but they do not know how. Organizations like PATH show them how they can be part of the solution by giving them an opportunity to volunteer their time or to donate money to make our society a bit more equitable.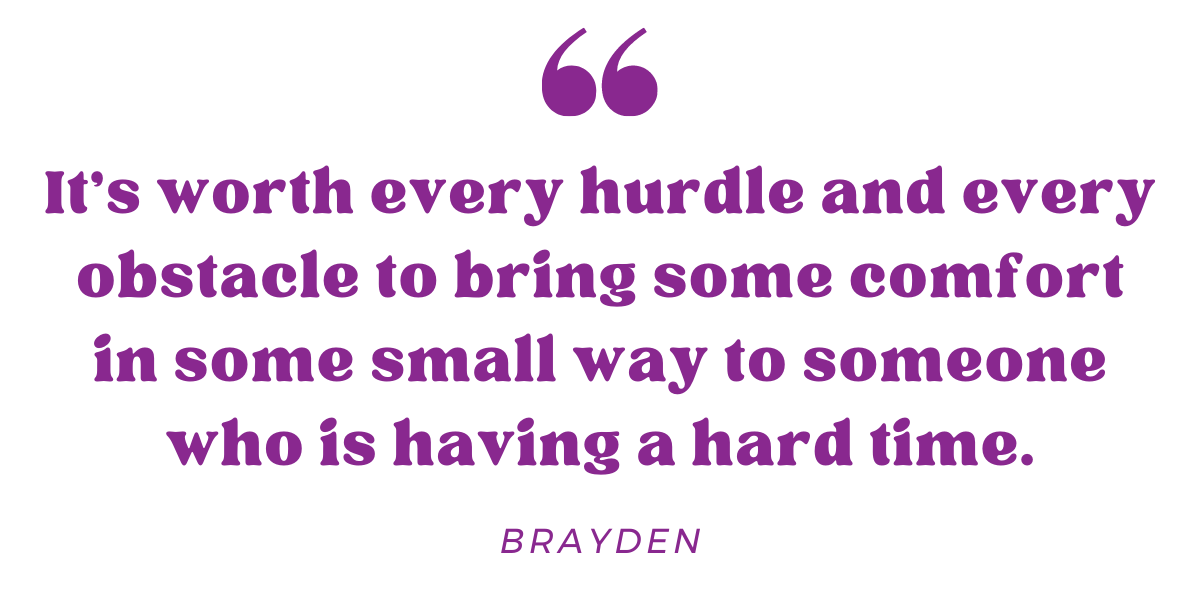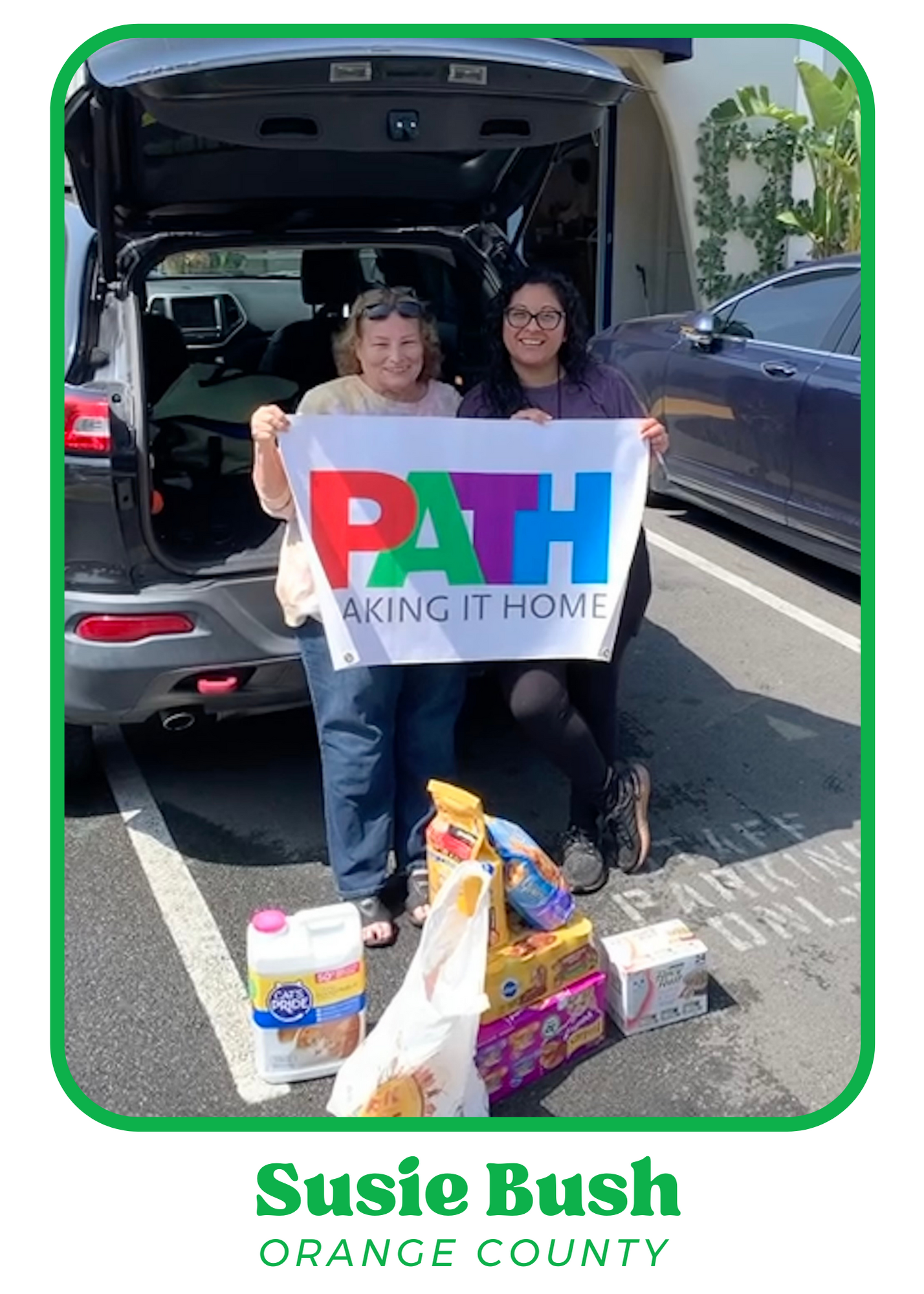 Tell us a little about yourself and how PATH's mission motivated you to volunteer with PATH?
Susie Bush, I have always been interested in helping others. The Navigation Center/PATH connected when I was finding a place to donate new jackets and blankets that an anonymous donor had give me. I feel in love with the people from PATH and how upbeat and welcoming they are to anyone. Every time I am able and honored to help the center I come away 100 times more blessed then what little I am able to do.
Do you have any favorite experiences at PATH, or any that have left an impression on you?
I was able to tour the center and meet some of the clients and their pets. It was beautiful to see people that had been on the streets safe, smiling, interacting with staff and even laughing. THAT IS THE FEELING OF HOPE AND LOVE WHICH IS THE NAVIGATION CENTER AND PATH.
What have you learned from your time with PATH?
I've been asked why do I do this and my response is always come and see. Anyone who takes the time to visit will come away enriched in some way.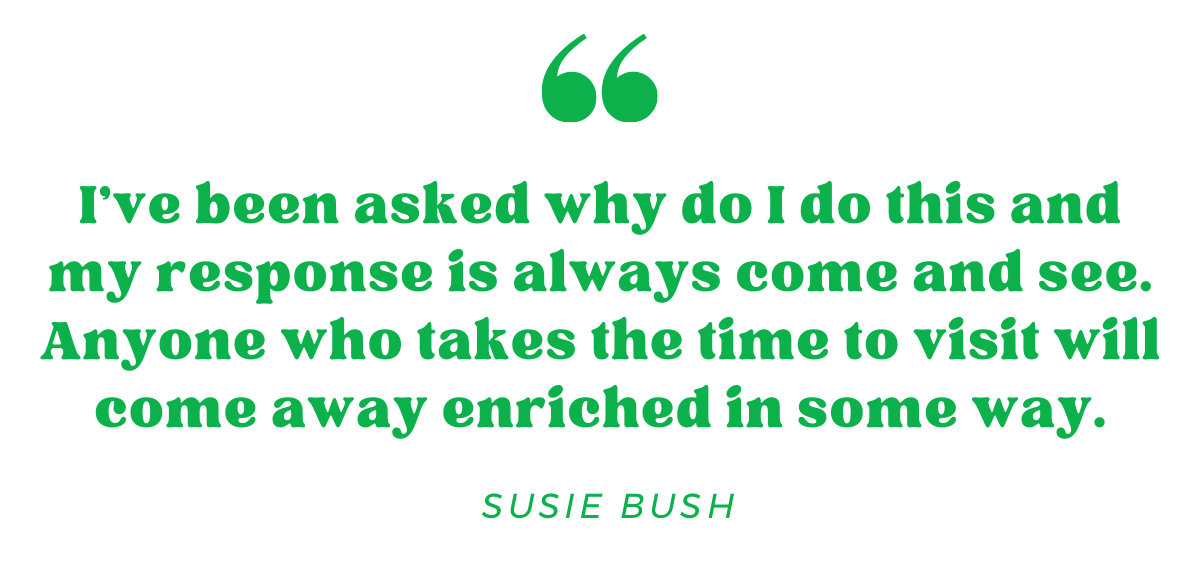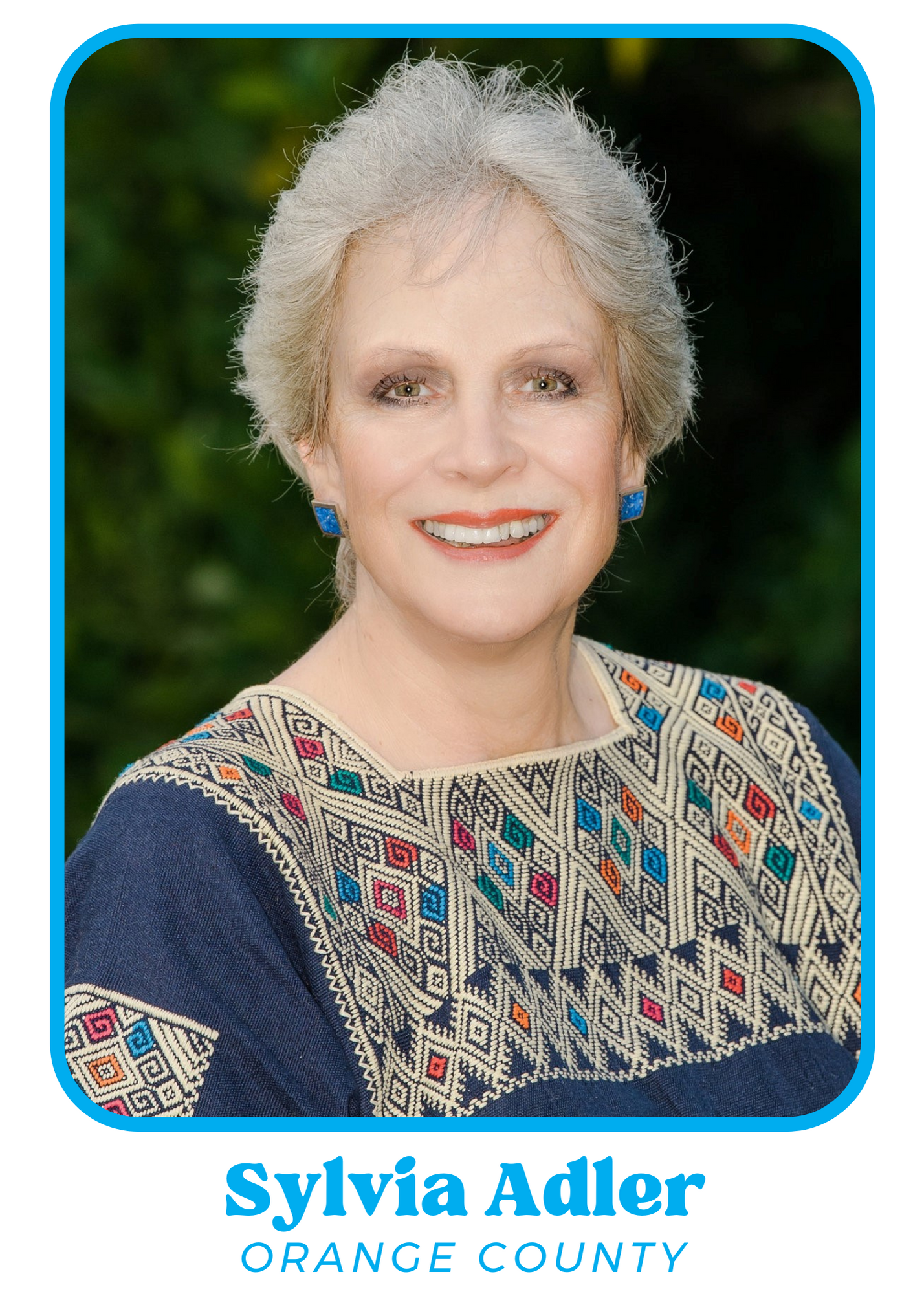 Tell us a little about yourself and how PATH's mission motivated you to volunteer with PATH?
I am a Certified Integrative Nutrition and Breath Health Coach. I am the founder of Breath-n-Health by Sylvia, and I am dedicated to helping people reconnect with their own power to improve their lifestyle, and gain an improved sense of wellbeing. I was elated when Marshè Samuel reached out to me to do weekly BreathWork sessions for the community that PATH serves. Understanding the levels of stress and anxiety that the homeless community experiences, I am hopeful to be able to provide an easy and FREE solution, which can help them reduce the negative effects of stress. Breathwork has been scientifically proven to help reduce stress and pain, to calm people down, to lower blood pressure, increases cardiovascular capacity, to name just a few of the benefits of deeper breathing.
Do you have any favorite experiences at PATH, or any that have left an impression on you? 
I was grateful to get some positive feedback from one of the gentlemen who's attended my classes: "Miss Sylvia, you changed my life!! I was able to bring down my blood pressure by practicing regularly the breathing techniques you teach us…! I even showed my sister how to do it, and her blood pressure also went down".
Why do we need organizations like PATH?
What I have witnessed every time is just how easy and effortless it can be to help people improve their mood and their overall sense of calm. Deeply grateful for this opportunity to serve my fellowmen.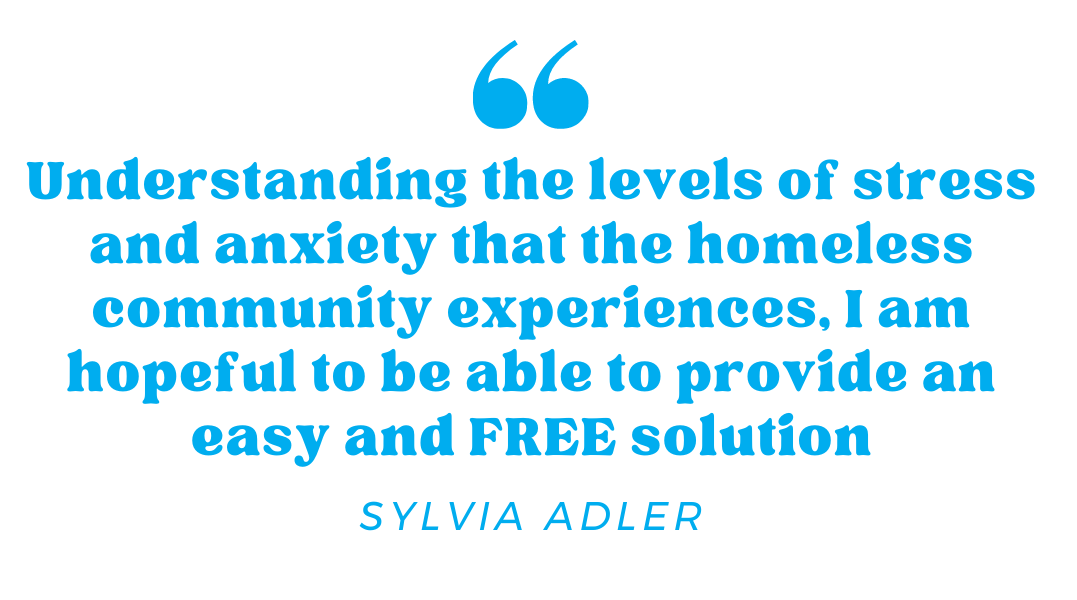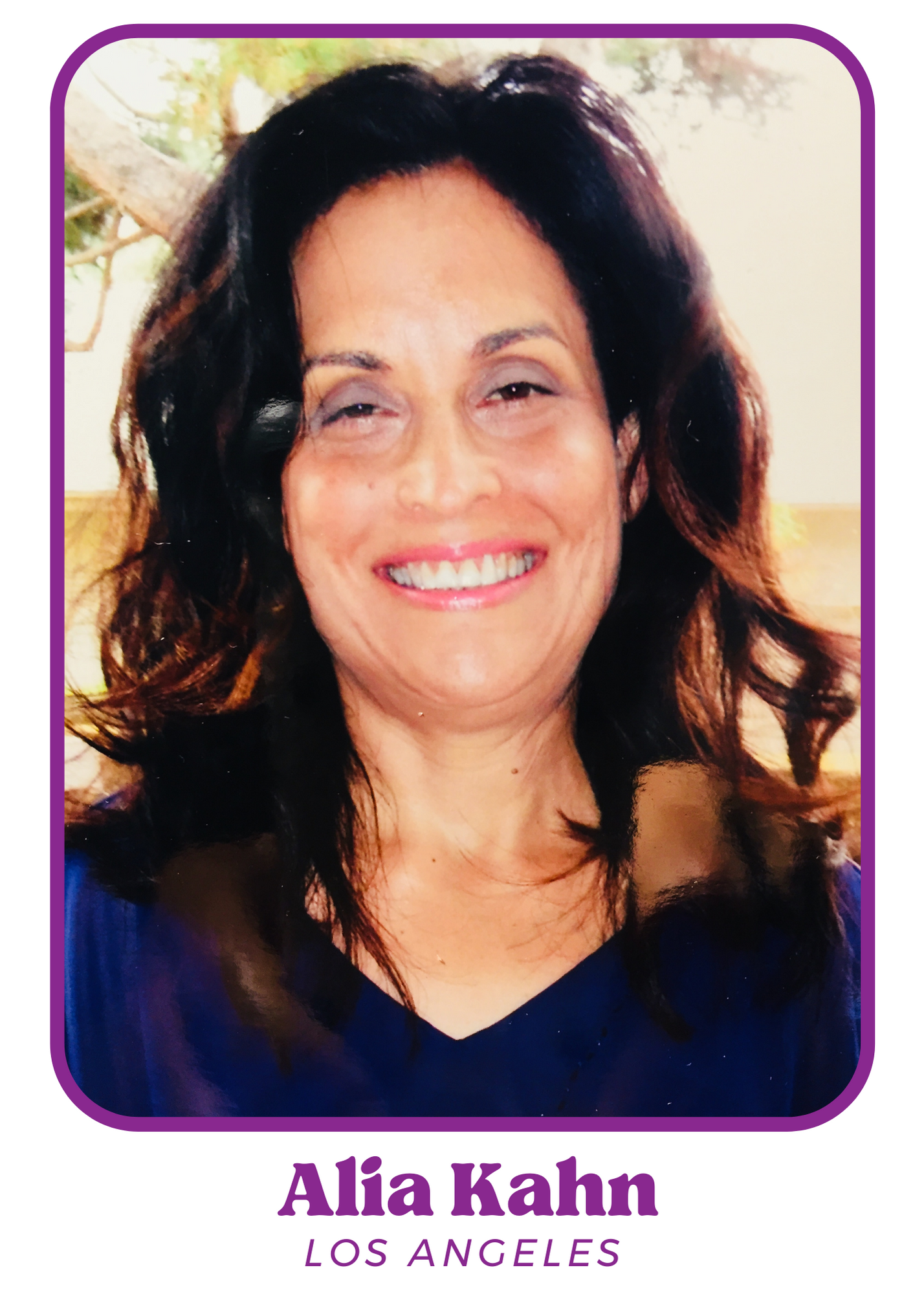 Tell us a little about yourself and how PATH's mission motivated you to volunteer with PATH?
"Alia Kahn" – Nominated by our PSH site team I started playing piano at the age of four so I have been a musician for most of my life. For the next 15 years, I performed at festivals and recitals and as a teenager. I went to Boston to the Berklee College of Music to study jazz piano. Eventually, I started my own band which led to me having my own recording studio business in Hollywood. Fast forward twenty-five years and I went back to school to finish my degree in piano pedagogy and composition. During this time, I decided to volunteer in Skid Row and was so moved by the human suffering there that I changed my major to psychology. Before long, I became an advocate for people who were unhoused and went on to get my Master's Degree in Social Work. Both of my internships were in agencies addressing poverty. It was during this time that I heard about PATH from classmates who worked there. I was impressed with the huge network of services PATH had been providing for decades. I had always wanted to learn more and get involved. After graduating with my MSW, I decided I was interested in psychosocial rehabilitation. I did some research and learned about a nonprofit called Heart Forward and saw that Kerry Morrison, the director and founder, was working to open a clubhouse in Hollywood. I became fascinated by how Heart Forward is trying to transform our mental health system through something called "Radical Hospitality", a guiding principle based on social recovery that was being practiced in Trieste, Italy. The former CEO of PATH, Joel Roberts, also wanted to understand what Heart Forward was doing so he and Kerry collaborated to bring Radical Hospitality to the PATH permanent supportive housing program. Suddenly, a piano was donated, and Kerry offered me the privilege of being the piano teacher at Long Beach and 21st. This allowed me to combine my love of music with my love of social work.
What have you learned from your time with PATH?
I have learned about the power of music to heal. I have seen first-hand through my experience teaching the adults at Long Beach and 21st that learning music can increase and alter brain function as well as strengthen social bonds. My experience as a piano teacher in this space confirms the research that learning to read and play music can result in structural changes in the brain in as little as 6 months! Improved auditory temporal processing and memory, reading skills and gesture imitation are but a few of the beneficial side effects of learning to play the piano. Also, it is clear that people can take up the piano at any age and be successful. I have learned that by providing a service with value like piano lessons, people will respond and come forward to learn. These students have been inspired by music and are coming out of their units into the community to practice piano. I plan to continue as their piano teacher for the long-term which means they can have an ongoing relationship with music and the piano. I want music to be something that is a constant for them that will not be taken away.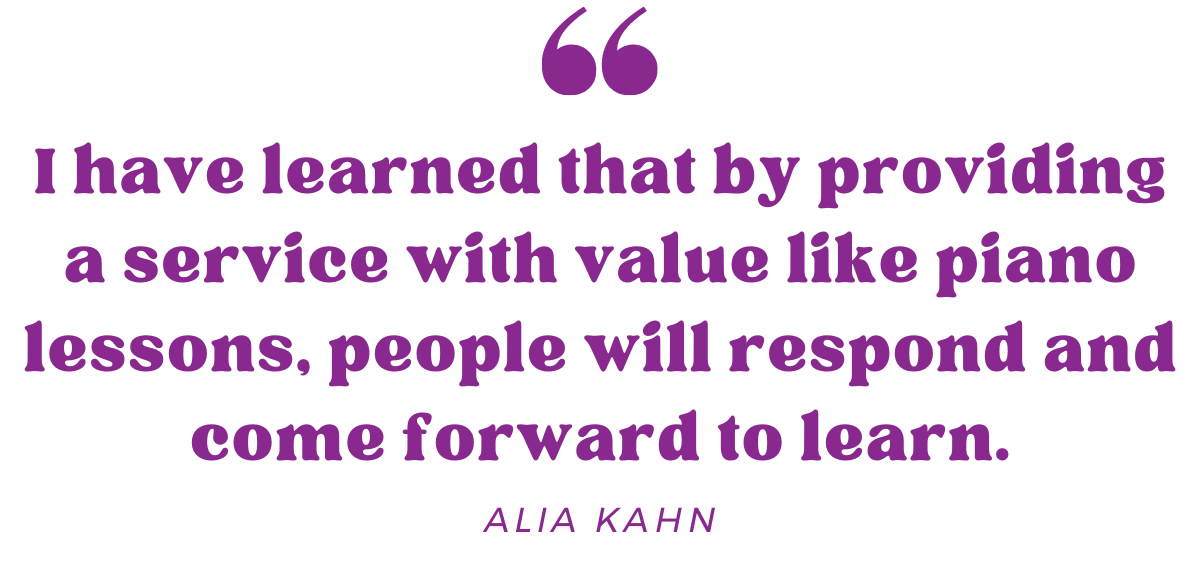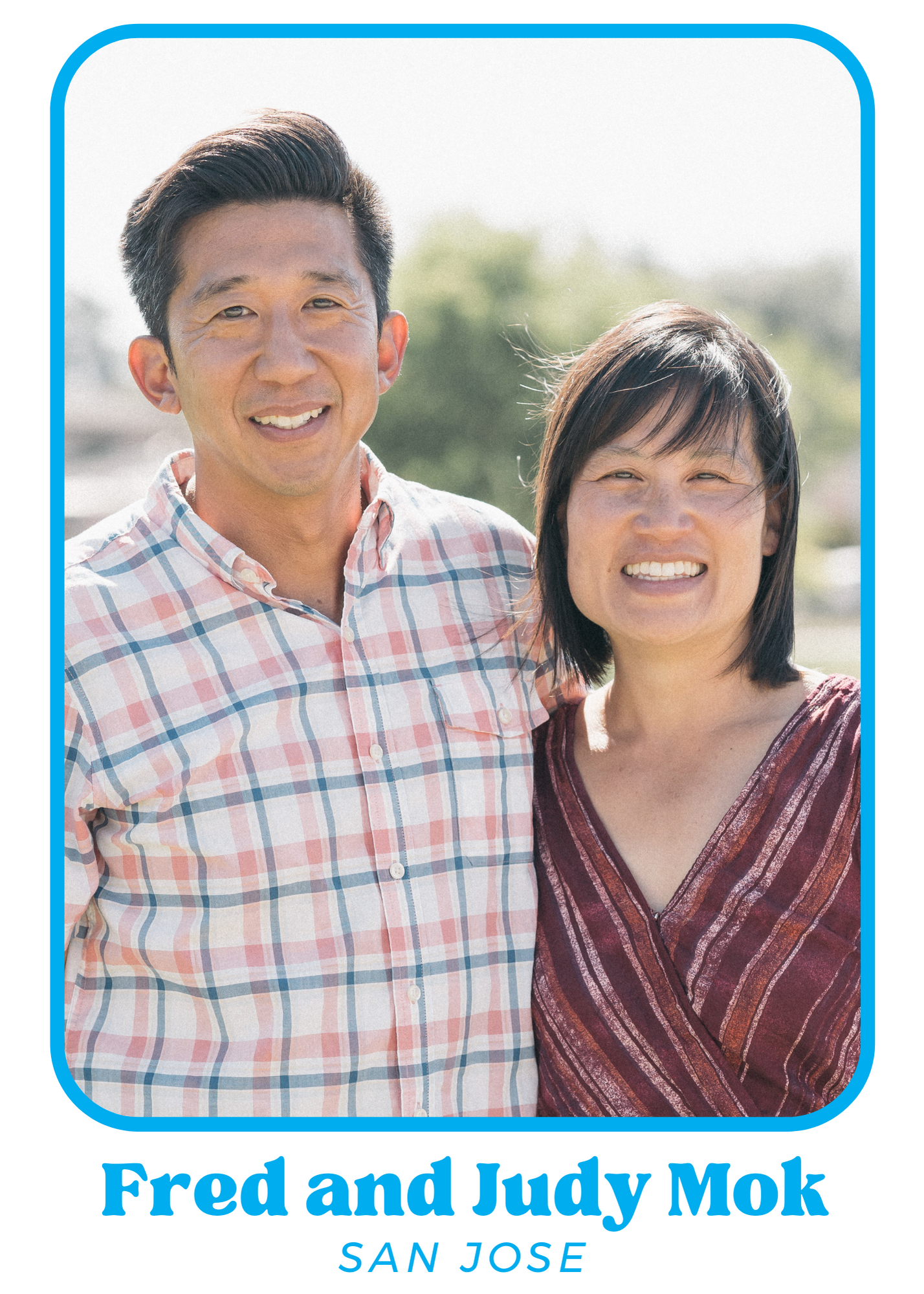 Do you have any favorite experiences at PATH, or any that have left an impression on you? 
Fred: I'm a pastor and I enjoy equipping people to read the Word of God. The first six months of the Bible Study, one of the residents named Derek joined us. He is not a Christian and asked such honest questions and shared candidly about his views. It was so refreshing and I'll remember the experience for the rest of my life. He no longer attends but his presence was such a gift to me.
Judy: My favorite event is the summer barbecue (June 2021) we hosted with PATH residents on the rooftop courtyard. It was a more casual event where we planned a few games and had time to chat with the clients. It felt like a gathering of friends and it was neat to see the friendships among the clients, how they looked out for one another, joked around. The residents really welcomed us volunteers. Compared to the 2020 Thanksgiving when shelter-in-place was at its height, it was a great experience to be able to interact and gather with the clients. The two events kind of felt like night (Thanksgiving 2020) and day (June 2021 barbecue). I don't think everyone liked the games that we planned but I appreciated that they were willing to give it a try and it was fun to sit with them and laugh. At the Thanksgiving 2021 and Christmas 2021 events, I appreciated being able to have more extended conversations with the clients while sitting with them over a meal. Karaoke was a lot of fun. Each conversation is eye-opening as they share little bits about their story and what they've been through. Even while waiting for the elevator, I get a glimpse of some of the challenges and hard realities of the client's lives. Getting to know the clients builds the case to continue our relationship with PATH.
What have you learned during your time at PATH and why do we need places like PATH? 
Fred: I've learned that having a job, food, and shelter are not enough to truly help someone. PATH residents have endured a series of traumatic and adverse experiences that make it incredibly difficult to function well. I'm increasingly convinced that not only does it take a village to raise a child but it takes a village to support an adult. We all need community. I love that PATH provides a broad range of support that constitutes the essence of what community is about – counseling, mentoring, group activities, physical and mental health care, and most of all, cultivating an atmosphere of belonging where residents care for another. After all, my mission as a pastor is to inspire my congregation to care for one another. As I spoke during a memorial for two deceased residents with many residents speaking words of remembrance, it hit me that this type of care is exactly what has emerged in the PATH community.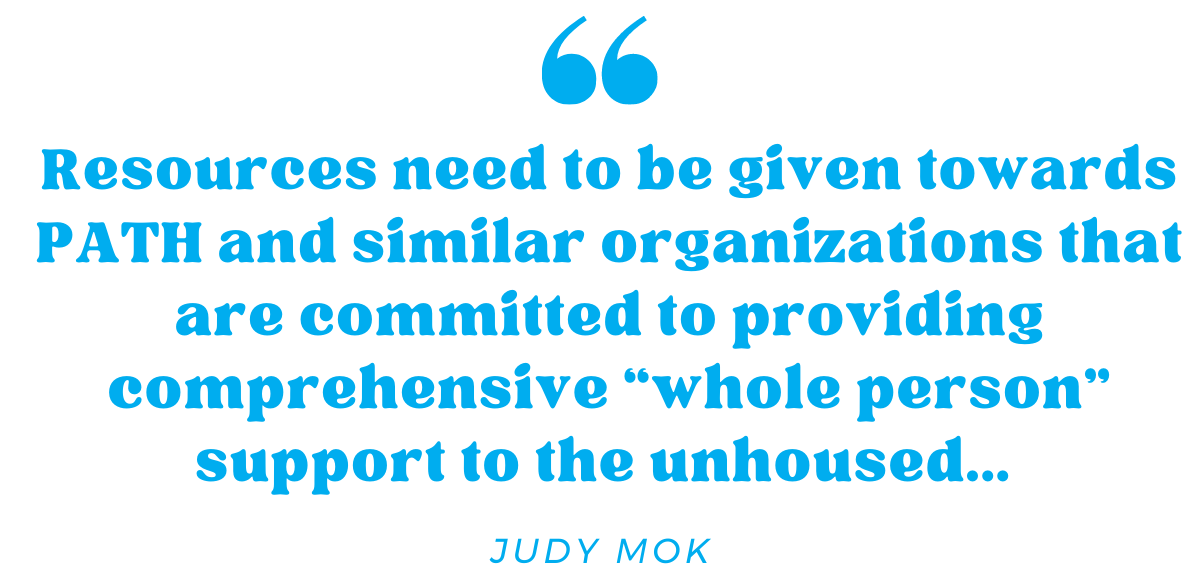 Judy: Some people prefer to do a lot of research before they jump into an organization, role/job, life decision. I tend to do the opposite, I jump in and then I learn as I go along for the ride. I want to commend Jesse's role as not just the activity or volunteer director but as an educator and bridge builder between PATH Villas at the Park and the surrounding neighborhood. I was invited to watch the monthly PATH virtual updates to learn more about PATH's work statewide and the greater issues of housing, affordability, access to services, and homelessness. Jesse and Laura Sandoval both participated in a zoom call in fall 2021 set up for volunteers from Quicksilver Church and Garden City Church to learn about PATH and homelessness in San Jose and Santa Clara County. What I did not realize before the zoom call is that some of the residents at PATH Villas at the Park are among the "least of these" and without PATH their quality of life and life expectancy would be dramatically reduced. Resources need to be given towards PATH and similar organizations that are committed to providing comprehensive "whole person" support to the unhoused, whether it is someone in need of a short term boost of help or someone who will be dependent indefinitely.
One thing that continues to hit home for me during the time that I've volunteered with PATH is that everyone has a story. It is really easy to judge someone and make assumptions about who a person is based on their current circumstance. Volunteering with PATH has given me the chance to observe, ask, listen to someone share about their situation and hear their story. Sometimes the person is what we'd consider as "normal" and if I stood behind them in the grocery store checkout line I'd never know they were unhoused. Other times, I'm hearing about an illness, death of a loved one, broken relationship, abuse, and addiction job loss as the backdrop to choices that snowballed into living in a car or homeless encampment. The staff at PATH Villas at the Park do good work that is hard work; I think there also needs to be effort and attention to encouraging and appreciating them.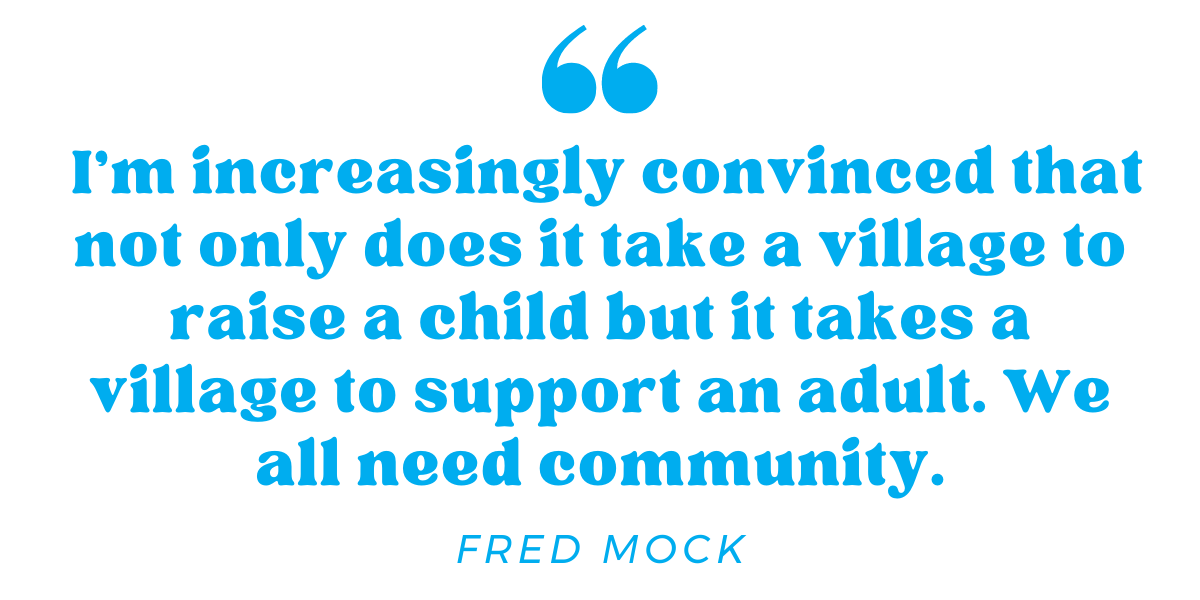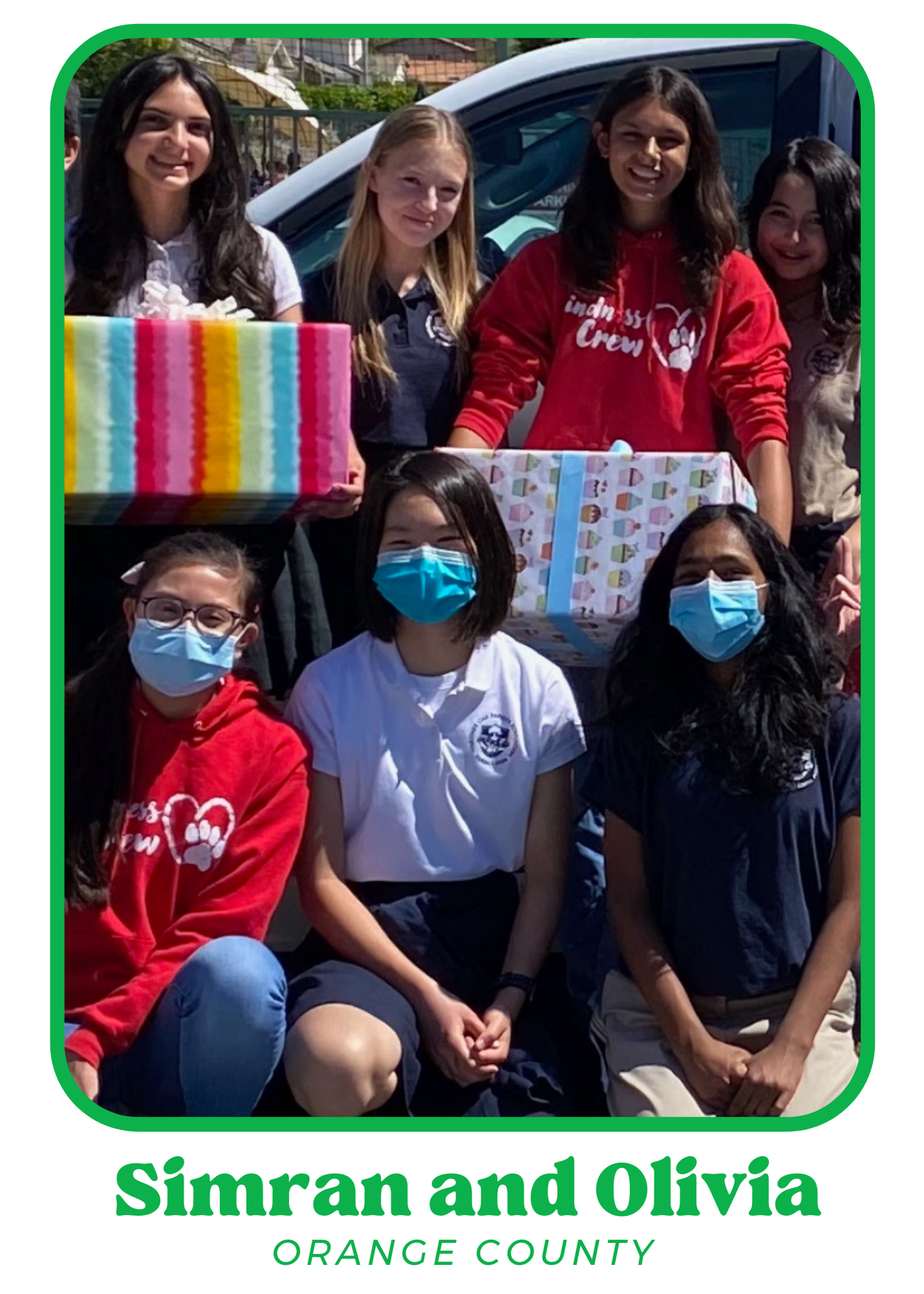 Do you have any favorite experiences at PATH, or any that have left an impression on you?
Simran: Being the president of Kindness Crew, I first saw PATH as a great opportunity for our Crew, but I later realized how important what we are helping with is. PATH's organization has been the most influential volunteer experience I have ever done. Overall, across our kindness crew, we donated over 400 masks to PATH and 20 cases of water. This brought a warm feeling across my heart, and I could not be happier for all that PATH has done for people struggling.
Olivia: My favorite experience with PATH is donating masks and water to homeless shelters. I am very proud that I got to work with PATH on such an amazing project. I hope our donations helped and made an impact on those receiving the masks.
What have you learned from your time with PATH?
Simran: Working with PATH has made me learn that good people are everywhere, and how kindness comes at no cost, because it is the right thing to do. Its universal. Being kind, fills a spot in my soul, and makes me feel a joy that I never knew existed.
Olivia: From my time with PATH, I've learned that people experiencing homelessness make up a large percent of our population and have really struggled during Covid.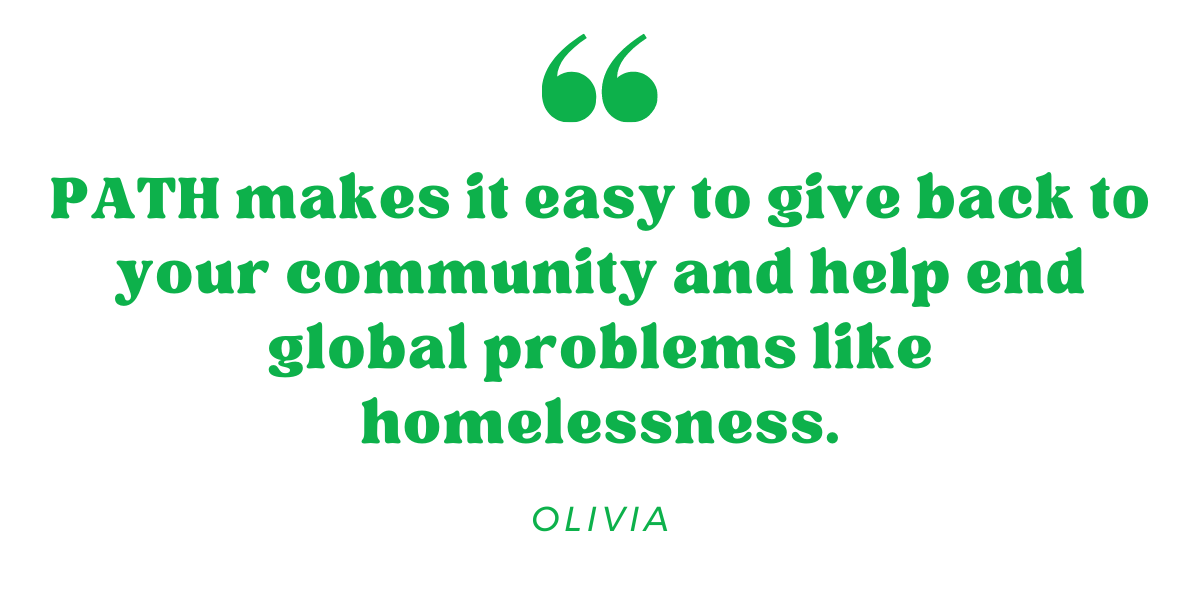 Why do we need organizations like PATH?
Simran: PATH is a great organization, and it is needed because we need more people like them.
Olivia: We need organizations like PATH because many people say they want to make a change, but few actually take action and do it. PATH makes it easy to give back to your community and help end global problems like homelessness.