This week, San Diego Mayor Todd Gloria participated in meal preparation for PATH Cooks Mobile, in celebration the one-year anniversary of the program and 25,000th meal delivered.
In April 2020, PATH launched PATH Cooks Mobile, a volunteer-led meal delivery service which was developed in direct response to the COVID-19 crisis. The program delivers nutritious meals to high-risk clients that are sheltering in place in motels and scattered site homes throughout San Diego County. Throughout the pandemic, our neighbors have counted on PATH for their nutritional support. Last year, as a State Assemblyemmber, Mayor Gloria volunteered by delivering meals to PATH clients.
"PATH's Cooks Mobile Program is in perfect alignment with the City of San Diego's new, more compassionate approach to homelessness," Mayor Gloria said. "The 25,000 nutritious meals PATH and its community partners have provided to vulnerable San Diegans is an incredible milestone that is changing and saving lives."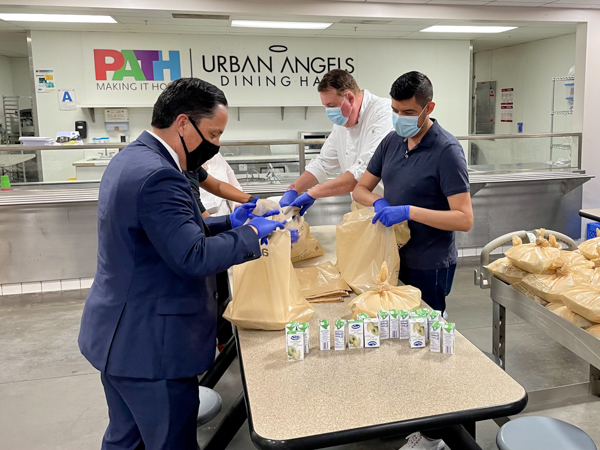 In September 2020, PATH joined the Ride United: Last Mile Delivery program led by 211/CIE San Diego, which is leveraging their Community Information Exchange partners to coordinate food deliveries to vulnerable San Diegans including low-income families, older adults, and those who can't leave their home due to COVID-19.
Meals are prepared at PATH Connections Housing downtown by The Urban Taste. Staff and volunteers cook more than 200 meals daily for on-site residents and off-site clients. After meal preparation, DoorDash "Dashers" pick up the packaged food and delivered to PATH clients across the city. Some meals delivered go to individuals who are residing at Project Roomkey sites, many of which do not have kitchens or amenities to prepare fresh meals.
"DoorDash is proud to partner with United Way, 211, and PATH San Diego to power the delivery of meals through Project DASH to individuals facing food insecurity, and we celebrate this impactful 25,000th delivery milestone. This tremendous partnership is just another example of DoorDash Drive helping fill an ongoing need by allowing partners to rely on Dashers to deliver food to people in their local community," said Brittany Graunke, DoorDash Drive's Director of Government and Nonprofit.
All PATH clients are connected to case managers, who work with them to develop housing plans. Clients reside at these sites while they wait for housing opportunities to become available.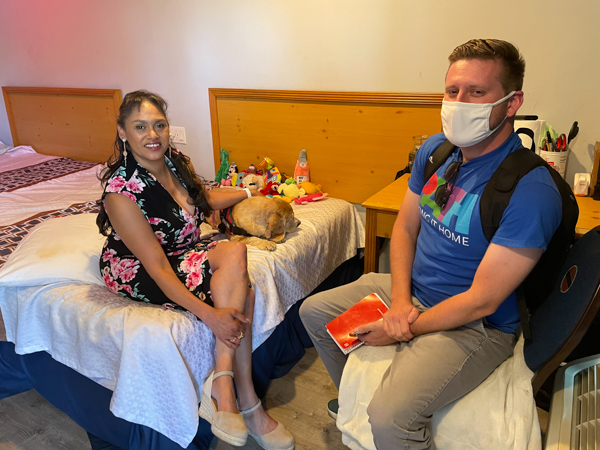 "This program saved my life and my dog Peanut's life. PATH has done more for me than anyone else I have worked with," said Caroline, a PATH client, currently staying at a Project Roomkey site. 
While the pandemic has shone new light on long-standing equity and access issues, including food insecurity, and presented many challenges, it has also forged new opportunities for innovation and collaboration. The PATH Cooks Mobile program would not be possible without all the community partners involved, including The Urban Taste, 211/CIE San Diego, United Way, DoorDash, and PATH volunteers.
"Food insecurity is a major problem for people experiencing homelessness and out of the pandemic came new and innovate ways to address this issue. Sheltering at hotels and motels provides our clients safety and PATH Cooks Mobile provides them sustaining nourishment while our case managers find ways to help them make it home," said Hanan Scrapper, PATH San Diego Regional Director.
PATH is committed to continuing this program and finding new ways to provide fresh, healthy meals to our most vulnerable unhoused neighbors in San Diego.