As Mental Health Awareness Month comes to an end, we are reminded now more than ever how vital mental health support and treatment is. Through the COVID-19 crisis and the shelter in place orders, stress, anxiety, and overall mental health has been at the forefront for many of us. For our neighbors experiencing homelessness, mental health issues and access to services have never been more important.  
Every day, PATH works with participants to address barriers that may have led to or continue to lead to their homelessness. Our main priority is finding permanent housing for the people we serve but working simultaneously to provide mental health support as needed is an integral part of our service model. We strive to make everyone we work with feel seen, heard, and supported.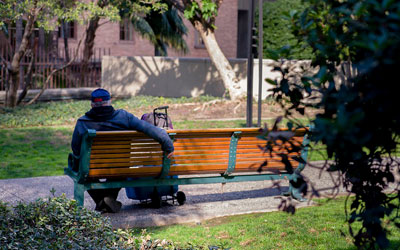 Experiencing homelessness can increase the risk of developing a mental illness, and approximately 1 in 4 homeless Californians need mental health support. That is why PATH provides mental health services, advocates for accessible mental health resources, and encourages open and thoughtful dialogue around this important issue. 
PATH currently operates 10 interim housing sites, five COVID-19 isolation and Project Room Key sites, 14 supportive apartment communities, and has services in more than 140 cities across the state. Providing mental health support is a common thread across all our programs because no matter what stage someone is in the process of making it home, there are countless emotional adjustments and transitions that occur.  
At our interim housing site in Santa Barbara, we have an onsite public health psychologist, case managers from the county department of behavioral wellness, and a PATH staff member that is a licensed substance abuse counselor available every day to support interim residents.  
In San Diego County, through our Whole Person Wellness program, we serve those living on the streets who need access to healthcare services because of a physical health, mental health, or substance use concern. This program improves the well-being of individuals by connecting them to services that improve health and wellness—with the ultimate goal of helping them move into a permanent home. 
Our street outreach and interim housing teams in Los Angeles include clinicians who provide direct services as well as referrals to agencies like the Department of Mental Health. However, mental health support begins with how we engage with our clients. Steve Fiechter, our Regional Director of Metro Los Angeles, says that "looking people in the eye, providing what they ask for instead of what we think they need, offering without forcing, and giving people space without imposing services, builds trust."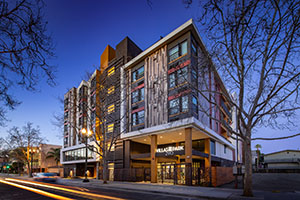 Our supportive apartment community in Downtown San Jose, Villas on the Park, is an intensive behavioral health provider, providing mental health services and substance abuse services for our neighbors living on the streets and tenants that live onsite.  
Arthur, a tenant at Villas on the Park, shared how being housed has impacted and improved his mental health. "I feel like my opinions and suggestions aren't ignored, that they are valued and taken into consideration," Arthur said. The voice of those who have experienced homelessness is critical in building supportive communities, and it is this dignity and sense of belonging that improves confidence, trust, and overall mental health. 
In addition, PATH ensures our tenants and clients have resources available for essentials like food, hygiene items, clothes, and home goods. Arthur was living on the streets in a tent for more than 10 years and said that he "would only eat when restaurants had garbage days." The nourishment and security available at Villas on the Park has completely transformed his physical health, which is vital for maintaining stable mental health and housing.   
 PATH is dedicated to providing mental health services, advocating for accessible mental health resources, and encouraging open and thoughtful dialogue around this important issue. To support our neighbors experiencing homelessness and the vital work PATH is doing in the community, please click here.