What do you call a company who sees a need in their community and realizes they have the power to fix it? Why that's an Ace in the Hole! Or more specifically, Ace Uniforms. On March 4th, PATH San Diego received a donation that impacted the lives of hundreds of their clients: $25,000 worth of coats, shoes, and ponchos from Ace Uniforms!
Ace Uniforms started their business back in 1958 selling denim and leather goods. That blossomed into servicing various customer groups from head to toe – law enforcement, fire, medical, military, hospitality, and corporate professionals. San Diego's East Village has been their home since the 60's and they have two other locations: Vista, CA and Phoenix, AZ.
The San Diego team sees the effects of homelessness each day, and during COVID, the problem was even more visible. They have an extensive inventory of footwear and outerwear and at some point it clicked that they should utilize that position for good.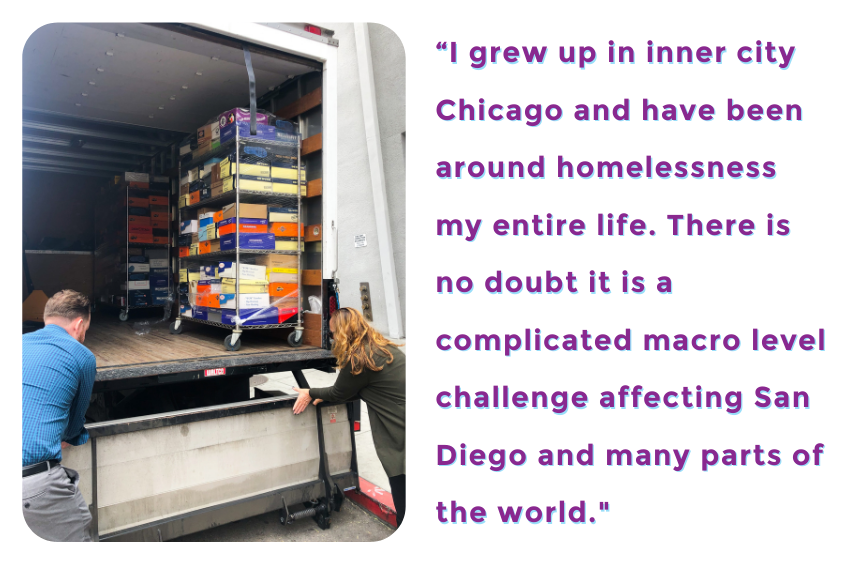 Rory Staiger, Ace Uniforms CEO, says, "One of Ace Uniforms 5 core values is Commitment to the Community and we have  partnered with many different community organizations over the years. In 2020 we raised $10k for scholarships for children of first responders in San Diego County. We also donated 1000's of wash and wear scrubs to different health care facilities in San Diego and Maricopa county when COVID started. Nurses needed more scrubs in their rotation because they were washing their scrubs so often. Also, in 2020 Ace Uniforms worked with the National Alliance on Mental Illness (NAMI) and donated hundreds of supply backpacks for people experiencing homelessness in San Diego. Most recently, in 2021 we donated $480k worth of PPE to USC School of Medicine to enable needed surgery training. Now, thousands of surgery training sessions will be conducted in that PPE."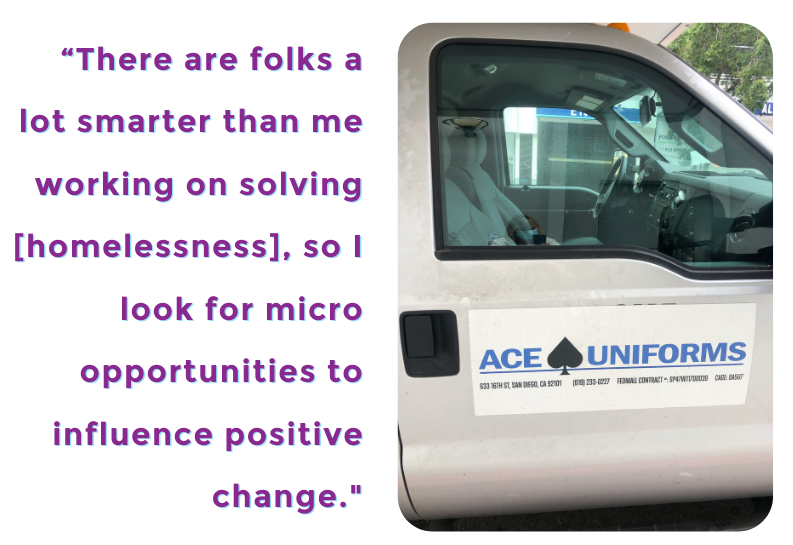 For Rory, giving back is personal. He tells us, "I grew up in inner city Chicago and have been around homelessness my entire life. There is no doubt it is a complicated macro level challenge affecting San Diego and many parts of the world. There are folks a lot smarter than me working on solving it, so I look for micro opportunities to influence positive change. I am fortunate to be in a position to leverage Ace's resources for good and I am lucky to have teammates that are also passionate about ending homelessness. We'll leave sweeping policy changes up to the politicians and keep our focus on impacting change at the micro level. Hopefully we can inspire others to do the same." 
We are so grateful to Rory and the entire Ace Uniform team for their passion and commitment to ending homelessness. The change they created will keep hundreds of individuals in all of our programs feeling that pride that only a new coat and a new pair of kicks can offer! Thank you Ace Uniforms!